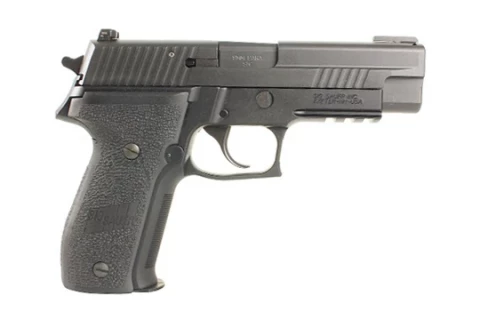 Sig Sauer P226 226R9BTFO
Brand New
About Sig Sauer P226 226R9BTFO
Designed for the U.S. Army and carried by U.S. Navy SEALS, Texas Rangers and many other elite military and law enforcement professionals, the Sig Sauer P226 MK25 Semi Auto Pistols has earned its place in the highest class of production pistols. The SIG SAUER P226 is the pistol that set the standard by which all other combat handguns are measured. The exceptional ergonomics and balance make this full size pistol easy to handle. Its longer barrel yields better ballistic performance and accuracy. The P226 MK25 is identical to the pistol carried by the U.S. Navy SEALS, the fleet's special warfare operators. The railed P226 chambered in 9mm and engraved with an anchor on the left side of the slide is the official sidearm of the SEALS.
Sig Sauer P226 226R9BTFO For Sale
Sig Sauer P226 226R9BTFO Comparisons
Sig Sauer P226 226R9BTFO Reviews Colin Kelly
October 16, 2016
Colin Kelly on
I have it, I Love It, No complaints at all. Sonny Gunz
August 9, 2016
The 226 is such a good looking pistol. I've always wanted one. My absolute favorite pistol of all time. Have two P226's, love them! Having my brand new MK25 on its way in! So excited!
Sig Sauer P226 226R9BTFO Variations
Sig Sauer P226 226R9BTFO Questions and Answers
Sig Sauer P226 226R9BTFO Price History