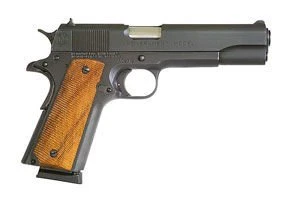 American Classic 1911
Brand New
About American Classic 1911
Frame :4140 Steel Slide :4140 Hammer Forged Steel Front Sight :Dovetail Rear Sight :Novak-Style Ejection Port :Flared Serrations :Front and Rear Grip :Checkered Wood with Diamond Cut Magazine :Bumper Pad
American Classic 1911 For Sale
American Classic 1911 Comparisons
American Classic 1911 Reviews PersonalDefenseNet
December 27, 2018
the classic american 1911 and infact this is the american classic particularly this is the american classic to from metro arms if you know one in 1911 this maybe the one four you. metro arms has a wide variety of 1911 style guns under several different
the classic american 1911 and in fact this is the american classic particularly this is the american classic to from metro arms if you know one in 1911 this maybe the one four you. metro arms has a wide variety of 1911 style guns under several different b New World Ordnance
December 27, 2018
Metro Arms American Classic II 45 1911 Pistol Overview New World Ordnance
Metro arms american classic 1911 is really a great pistol it's got a conventional non-firing safety government model type with a 5 inch barrel and carbon steel construction. extended magazine release botton, extended slide stop, extended single sided spee DrtyDiesel
December 27, 2018
American Classic II 1911 Review and Issues with Magazines
American Classic II 1911 made by metro arms company with this gun and it's very affordable. One of the cheaper 1911 options that made over in the Philippines and if you buy one of this guns it comes with scaled stock grips and you will see a lot of this frostyan
December 27, 2018
Metro Arms American Classic 1911
Metro Arms American Classic 1911 it shoots awesome, cheap ammunition and never had a problem with it and it's very accurate. You can shot a 15-yard to the head, good grouping stayed on the target. It has 8 round clip magazine, the safety is on the left si Buds is the best packaged arrived at the best time looks better then the picture by far more to come thanks buds Love the American Classic II ,great look and feel.Have not shoot yet but looking forward to it! First time to order here and I say it's the best of the best customer service ever. I place my order Tuesday and my FFL called me that my stuff arrived already by Thursday, about this American Classic II 1911 my third 1911 is the best one for the money!! Extraordinarily beautiful handgun, but very heavy due to the solid SS. So beautiful I will never get rid of it. Performs consistent head shots at 25yds. Very happy so far. Pistol was flawless on the finish, inside and out. No mill marks anywhere. The pistol was dripping with oil when I took it out of the plastic bag but it cleaned up great. Shot it the next day and it preformed well. One hundred rounds of Beautiful gun, excellent fit and finish. The handles are not exactly like shown, but pretty close - I think they don't go out of their way to use uniform hardwood, which means there is some subtle color variations that really have a nice aesthetic impact. Jeffrey H
August 28, 2015
I LOVE IT!!!!!!!!!!! Snake Skin Grips, are AWESOME Looking. Exactly As Described. Arrived In 2 days. Buds Accepted My Offer. I LOVE THIS 1911. Classic is what this gun is. I can not believe the quality that this gun brings for such a reasonable price. Great fit and finish, exceptional trigger, in fact it has the best trigger of all my handguns. Feels great in the hands and spot on accuracy right
American Classic 1911 Variations
American Classic 1911 Questions and Answers
Asked by
geoz48
4 years ago
Hi Brian, No unfortunately this model isn't Ca compliant.
American Classic 1911 Price History