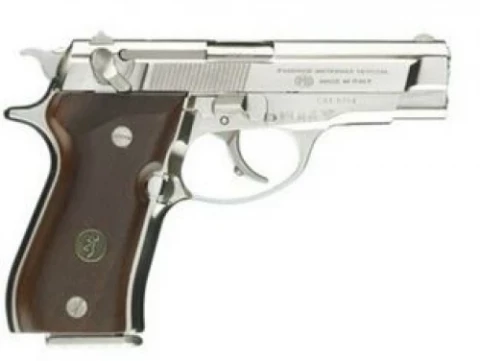 Browning BDA 380
Brand New
About Browning BDA 380
The BDA-380 Pistol was introduced in 1977 and discontinued in 1997.
Browning BDA 380 For Sale
Detailed Review
The Browning BDA 380 is a compact, lightweight handgun that was first introduced in the mid-1980s. It was designed as a self-defense weapon and features a double-action trigger and a six-round magazine capacity. The gun is small enough to be carried concealed, making it a popular choice for personal protection.
The BDA 380 is chambered for .380 ACP ammunition, which is a popular caliber for self-defense pistols. The gun has a 3.81-inch barrel and an overall length of 6.75 inches. It weighs in at just under 20 ounces, making it easy to carry and handle.
One of the standout features of the BDA 380 is its design. The gun has a distinctive look that sets it apart from other compact pistols. The frame is made from lightweight alloy, while the slide is made from matte black steel. The grip features checkering for a secure hold, and the sights are fixed for easy target acquisition.
The BDA 380 is also known for its reliability. The gun has a reputation for firing consistently and accurately, even with extended use. The double-action trigger allows for quick follow-up shots, and the manual safety ensures that the gun will not fire accidentally.
Overall, the Browning BDA 380 is a highly versatile handgun that is suitable for a wide range of applications. Whether you need a reliable self-defense weapon or a compact pistol for target shooting or plinking, the BDA 380 is an excellent choice.
Here are some additional specifications for the Browning BDA 380:
Caliber: .380 ACP
Magazine Capacity: 6 rounds
Barrel Length: 3.81 inches
Overall Length: 6.75 inches
Weight: 19.5 ounces
Finish: Matte Black
Sights: Fixed
Action: Double-Action
MSRP: $825
Browning BDA 380 Comparisons
Browning BDA 380 Reviews Browning BDA 380 ACP First Look
This gun is double action it has a very good grip and the sights are small and it has a very nice trigger double action it's so light pistol a very nice pistol. BROWNING BDA 380 ACP GUN REVIEW
This is a nice little blast from the past from Browning. A somewhat compact semiauto at about 6 3/4 inches and a whopping pound and a half empty. Your first look will tell you you're looking at a mini Beretta 92. There's a reason for that. The BDA is a cl Marko Kloos
January 9, 2019
Browning BDA .380, Oddball in a Tactical World
In a world where guns need to have "tactical" attributes to be considered true fighting tools, the BDA is an anachronism. It's large for a .380, it's a blowback gun chambered in what some consider an anemic caliber, and it's finished in very un-tactical s Bda 380
The BDA 380 was made for Browning by Beretta (PB). They are very similar to the the Beretta model 84 except for standard ejection port and slide mounted safety/decocker. The BDA 380 was also marketed as the FN 140 DA. All are exceptionally nice shooters a ArizonaMike
June 21, 2014
If you can find a Browning BDA 380 buy it. You won't be sorry. They wee made by Beretta for Browning and it shows excellent old school workmanship and finish. All PRO and no CON 5+ stars. Nice pistol, older desigh, ergonomic and concealable but VERY over priced on the used market
Browning BDA 380 Variations
Browning BDA 380 Questions and Answers
Browning BDA 380 Price History