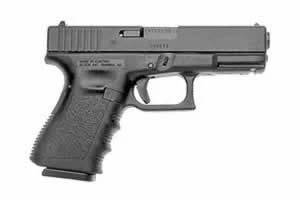 About Glock 32
The GLOCK 32 Gen4, in .357, introduces revolutionary design changes to the pistol that offers a unique combination of versatility, convincing ballistics, optimum carry comfort, and the GLOCK pistol reliability. The Modular Back Strap design lets you instantly customize its grip to adapt to an individual shooter's hand size. The surface of the frame employs the new scientifically designed, real-world-tested, Gen4 rough textured technology. Internally, the new GLOCK dual recoil spring assembly substantially increases the life of the system. A reversible enlarged magazine catch, changeable in seconds, accommodates left or right-handed operators. The G32 Gen4 retains the GLOCK accessory rail for your attachments. 2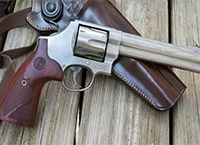 Detailed Review
The Glock 32 is a compact, semi-automatic pistol chambered in .357 SIG, a cartridge popularly used by law enforcement and civilian gun owners for its impressive stopping power. Designed and manufactured by Glock, a renowned Austrian firearms company, the Glock 32 is part of the company's flagship line of pistols that have earned a reputation for their reliability, durability, and ease of use.
At the heart of the Glock 32 is its innovative Safe Action System, which consists of three passive safety mechanisms that prevent accidental discharges, even in the hands of inexperienced or hurried shooters. These safety mechanisms include a trigger safety, firing pin safety, and drop safety. Together, they make the Glock 32 one of the safest handguns on the market, with a proven track record of preventing unintended discharges.
In terms of construction, the Glock 32 features a polymer frame, which makes it lightweight and corrosion-resistant, as well as a cold hammer-forged barrel for enhanced accuracy and durability. The pistol also has an ergonomic grip with textured panels for a comfortable and secure hold, as well as a reversible magazine catch that allows for ambidextrous use.
Another notable feature of the Glock 32 is its interchangeable backstraps, which allow users to customize the pistol's grip size to fit their hand size and shooting preferences. This feature makes the Glock 32 an attractive option for shooters of all sizes and skill levels.
In terms of performance, the Glock 32 is a reliable and accurate shooter with a 4.02-inch barrel length and an overall length of 7.36 inches. It has a magazine capacity of 13 rounds, making it suitable for self-defense, target shooting, and other applications where magazine capacity is important.
Overall, the Glock 32 is a versatile and dependable pistol that offers a combination of power, safety, and ease of use. Whether you're a law enforcement officer, a civilian gun owner, or a competitive shooter, the Glock 32 is a top-performing handgun that is sure to impress.
Glock 32 Reviews Marvin L
November 25, 2019
Marvin L on
Snappy shooter, but I love it! First time Glock purchase, and I wasnt disappointed... It's a Glock, it doesn't have any frills about it. It just works. Not a single hiccup and I use it frequently. Thanks Buds for being easy and fast. Service is great easy to order no worries no problems. This G32 has been on my short list for some time. I%u2019ve done homework on the 357 Sig cartridge and it%u2019s bad to bone from every angle. Only drawback is ammo pricing, so look around. I%u2019ve found target brass for well under twenty bucks. Wantin
Glock 32 Questions and Answers