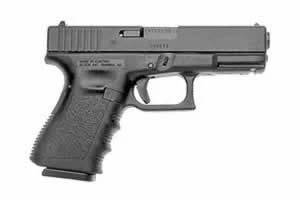 About Glock 32
The GLOCK 32 Gen4, in .357, introduces revolutionary design changes to the pistol that offers a unique combination of versatility, convincing ballistics, optimum carry comfort, and the GLOCK pistol reliability. The Modular Back Strap design lets you instantly customize its grip to adapt to an individual shooter's hand size. The surface of the frame employs the new scientifically designed, real-world-tested, Gen4 rough textured technology. Internally, the new GLOCK dual recoil spring assembly substantially increases the life of the system. A reversible enlarged magazine catch, changeable in seconds, accommodates left or right-handed operators. The G32 Gen4 retains the GLOCK accessory rail for your attachments. 2
Glock 32 Reviews Marvin L
November 25, 2019
Marvin L on
Snappy shooter, but I love it! First time Glock purchase, and I wasnt disappointed... It's a Glock, it doesn't have any frills about it. It just works. Not a single hiccup and I use it frequently. Thanks Buds for being easy and fast. Service is great easy to order no worries no problems. This G32 has been on my short list for some time. I%u2019ve done homework on the 357 Sig cartridge and it%u2019s bad to bone from every angle. Only drawback is ammo pricing, so look around. I%u2019ve found target brass for well under twenty bucks. Wantin
Glock 32 Questions and Answers