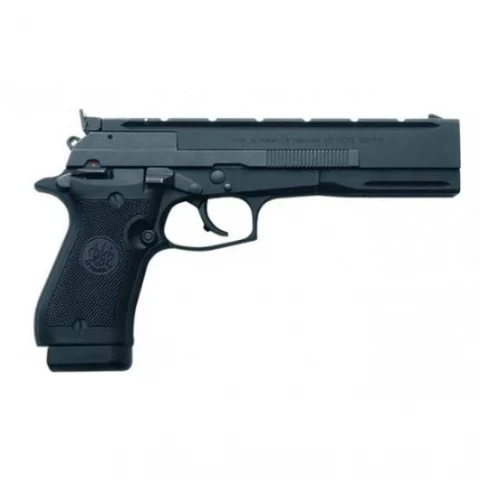 Beretta 87 Target
Brand New
About Beretta 87 Target
The 87 Target is a heavyweight competition gun that will be at home on any range. It features both adjustable metallic sights and a Weaver-style rail for mounting scopes or red dot sights. A squared-off muzzle allows a steady ready position on the bench for practical or international standard pistol shooting. The single-action trigger is light and crisp for accurate off-hand firing.
Beretta 87 Target For Sale
Specifications
| | |
| --- | --- |
| Brand | Beretta |
| Category | Semi-Auto Pistol |
| Weight | 40.9 oz |
| Action | Single Action |
| Caliber | .22 LR |
| Capacity | 10+1 |
| Finish | Black Matte |
| Gun Type | Semi-Automatic Pistol |
| Sights | Adjustable |
| Barrel Length | 5.09" |
| Length | 8.8" |
| Grip | Black |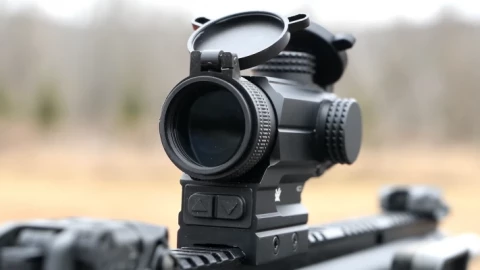 Detailed Review
The Beretta 87 Target is a semi-automatic pistol made by the Italian gun manufacturer Beretta. It is designed specifically for target shooting and competition use, offering exceptional accuracy and reliability.
The Beretta 87 Target has a sleek and classic appearance, with a black finish and wood grips. The barrel is 5.9 inches long, and the overall length of the pistol is 9.8 inches. The gun weighs just under 2 pounds, making it easy to handle and control.
One of the key features of the Beretta 87 Target is its adjustable sights, which allow shooters to fine-tune their accuracy and precision. The front sight is fixed, but the rear sight can be adjusted for windage and elevation. The trigger pull is also adjustable, allowing shooters to find the sweet spot that works best for them.
The Beretta 87 Target uses a simple blowback operation, meaning there is no need for a locking mechanism. This makes the gun more reliable and easier to maintain. It also contributes to the gun's impressive accuracy and consistency, as there are fewer moving parts to cause variances in performance.
The Beretta 87 Target is chambered in .22 LR, which is a popular choice for target shooting due to its low recoil and affordability. The magazine holds 10 rounds, which is standard for most .22 LR pistols. However, the gun's accuracy and reliability make it a great choice for competitions that require small-caliber firearms.
In addition to its performance capabilities, the Beretta 87 Target also has some practical features that make it a great choice for target shooters. The pistol's grip is ergonomic and comfortable, reducing shooter fatigue during long sessions at the range. It also has a manual safety, allowing shooters to easily engage and disengage the safety as needed.
In conclusion, the Beretta 87 Target is an exceptional choice for anyone who takes target shooting seriously. Its accuracy, reliability, and adjustability make it a top performing gun on the range. Its classic design and practical features also make it a pleasure to shoot and a valuable addition to any collection.
Beretta 87 Target Comparisons
Beretta 87 Target Reviews John Coory
January 4, 2019
Target review Beretta 87
Accuracy from the Target 87 is in keeping with the overall quality of its construction. Comfortable to shoot, due to great hand-filling qualities, it recovers promptly from recoil and settles back on target in a very ordered manner. Its balance is so neut Jim Downey
January 4, 2019
GUN REVIEW: BERETTA 87 TARGET .22
It comes with excellent, adjustable metal sights, but you actually have the option to trade out the front blade sight for a thinner one, which can aid in accuracy when just using the open sights. The rear sight is a simple notch, but fully adjustable for 87 Target
As Beretta's flagship target pistol, the 87 Target has to satisfy some very stringent accuracy requirements. It is capable of producing cloverleafs at distances of 30 yards and more, while the trigger, breaking at a crisp 3lbs, greatly helps minimize musc Baretta Australia
January 4, 2019
BERETTA 87 TARGET
Take the 87 Target out of its box, add optics (if desired) and it is competition ready or ready to be put through its paces at training. Thanks to a built-in Weaver style rail, mounting optics can be done in a flash. The sights are adjustable, and the mag Yes, this pistol is expensive as would be expected from Beretta but it fires like butter and groups unbelievably. Great gun. I highly recommend it.
Beretta 87 Target Variations
Beretta 87 Target Questions and Answers
Beretta 87 Target Price History