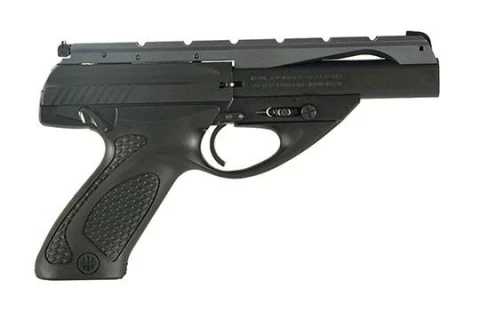 Beretta U22 Neos
Brand New
About Beretta U22 Neos
Neos means "new" in Greek, and Beretta's American design staff started with a clean sheet when drawing up this new line of .22 pistols. The lines are meant to appeal to a new generation of shooting enthusiasts who are respectful of the past while bringing a fresh attitude to the shooting sports. The Neos pistols feature cutting-edge design, modular construction that allows personalization and the flexibility for many shooting disciplines. Available at popular prices, the Neos is ideal for new shooters, but it won't easily be outgrown as skills improve.
Beretta U22 Neos For Sale
Specifications
| | |
| --- | --- |
| Brand | Beretta |
| Category | Semi-Auto Pistol |
| Weight | 31.7 oz |
| Action | Single Action |
| Caliber | .22 LR |
| Capacity | 10+1 |
| Finish | Black Matte |
| Gun Type | Semi-Automatic Pistol |
| Sights | Adjustable |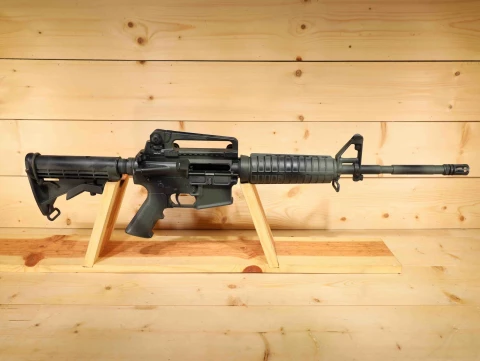 Detailed Review
The Beretta U22 Neos is a semi-automatic firearm that was introduced in 2002 by the Italian firearms manufacturer, Beretta. The U22 Neos is designed for recreational shooting, plinking, and target practice. It features a unique, futuristic design that makes it stand out from other firearms in its class.
The Beretta U22 Neos has a modular construction that allows for easy customization and maintenance. The barrel, slide, and frame are all separate pieces that can be disassembled and reassembled without the use of tools. This makes cleaning and maintenance a breeze, even for beginners.
The U22 Neos has a straight blowback action that provides reliable and consistent performance. It also has a single-action trigger with an adjustable trigger stop that allows the shooter to customize the trigger pull to their liking. The pistol is chambered in .22 LR and has a 10-round capacity magazine.
The U22 Neos has a polymer frame that is lightweight and durable. The frame is ergonomically designed to provide a comfortable grip for shooters of all hand sizes. The pistol also features a Picatinny rail on top of the receiver, which allows for the attachment of accessories such as scopes, lasers, or lights.
The Beretta U22 Neos comes with interchangeable grips that allow the shooter to customize the grip size and shape to their preference. The grips are available in various colors and designs, which make the U22 Neos a fun and customizable firearm.
The U22 Neos has a 6-inch barrel, which provides excellent accuracy and stability. The barrel is also threaded, which allows for the attachment of a suppressor. The pistol has adjustable sights that allow for easy and precise aiming.
The Beretta U22 Neos is a reliable and accurate firearm that is ideal for recreational shooting and target practice. Its modular construction, ergonomic design, and customizable features make it a great choice for beginners and experienced shooters alike.
Beretta U22 Neos Comparisons
Beretta U22 Neos Reviews Derek Jones
January 6, 2019
Beretta U22 Neos .22LR Pistol overview and review.
The Beretta U22 Neos this is interesting thing on this gun is the safety is towards the rear fire safe and the magazine release is on the opposite side, this is very accurate pistol and this is a phenomenal value metal gun does have a plastic handle but t 22plinkster
January 6, 2019
Beretta Neos Review
The Beretta U22 Neos it does have ambidextrous safety on both sides on which is pretty neat, the grip is really small so this is going to be a good shooter for kids and women. That has small hands its going to be a good shooter, its going to fit to hands, Gear Obsession
January 6, 2019
Shoot and Review of the Beretta Neos - U22
This gun comes with or at least this particular pistol came with a four and a half inch barrel with the four and a half inch barrel its 32 ounces a very very light pistol in comparison to most other 22s in the same class. Also get this with the larger six Hamza Malalla
January 6, 2019
Review: Beretta U22 Neos plinking pistol in .22 LR
The Beretta U22 Neos is equipped with an ambidextrous thumb safety, which is pushed upward to unlock. Even a moderately sized hand will cover the levers when the weapon is unlocked, so that they press into the hand when the safety is engaged. The best way BRETT SOLOMON
January 6, 2019
Gun Review: Beretta U22 Neos Inox
The grips are made of a rugged fiberglass, and most everything else on the gun feels solid. Say what you want about the M9 pistol, but it had to go though a lot of hurdles to become the official sidearm of the US Army. Beretta, after nearly 500 years in b I am old. I have a lot of guns. My High Standard Sport king was built before a lot of you were born. The Neos caught my eye at a local shop. It followed me home. I read the manual, stripped it, cleaned it and LUBED it. I use a mixture of 3000 degree rated I've had a 6-inch Neos for several years, and it's far-and-away my favorite .22LR range gun. The top rail allowed me to easily install a fairly large Bushnell red dot, and the result is an extremely accurate shooter. Stripping and cleaning is ridiculously I have put about 700 rounds through the Neos with only a few failure to fire and failure to eject. I was using a CCI ammo when that happened. Since I switched to other brands I have not had any issues. I really love this gun. I purchased the 4" barrel and Cudos to Beretta. The Neos is a performer. Ammo brand tolerance is excellent making it affordable using bulk ammo. I always finish my range visits with some fun Neos shooting.
Beretta U22 Neos Variations
Beretta U22 Neos Questions and Answers
Beretta U22 Neos Price History