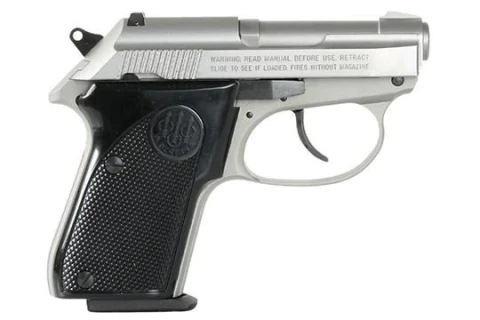 Beretta 3032 Tomcat
Brand New
About Beretta 3032 Tomcat
This double/single-action pistol is perfect for deep concealment or as a backup second handgun. Its tip-up barrel design makes it easy to load, operate and maintain, while its traditional looks give it the allure of a true classic. Specifications: Frame Material: Alloy Frame # of Mags: 1 Overall Length: 4.9" Additonal Info: Tip Up Barrel Gun Case: Plastic
Beretta 3032 Tomcat For Sale
Specifications
| | |
| --- | --- |
| Brand | Beretta |
| Category | Semi-Auto Pistol |
| Action | Single/Double |
| Caliber | .32 ACP |
| Capacity | 7+1 |
| Finish | Stainless |
| Sights | Fixed |
| Barrel Length | 2.4" |
| Gun Type | Semi-Automatic |
| Grip | Black |
Beretta 3032 Tomcat Comparisons
Beretta 3032 Tomcat Reviews Rodney C
November 19, 2019
After 200+ rounds....100% reliability, excellent accuracy out to 25 feet. Excellent build quality. Low recoil. Sights are minimal but it's a true pocket pistol. Total confidence in this firearm. Worth every penny. Stephen P
November 14, 2019
This is a Beretta Tomcat 32 caliber ACP pistol. Cute little pistol. Easily carried in a pocket without anyone noticing. I purchased a pocket holster for it at my local gun shop and a couple of additional magazines Dr Mark A D
September 21, 2019
Bud's did a great job as usual. But I hated this firearm. The black one made in 2019 is greatbut this one was not a not attractive. It is acully grayand black. Hated the color. Next the barrel release button was almost impossible to mange for the tip up b James F on
I would like to update my evaluation of this pistol since receiving it back from Remington and having a chance to fire it. I would definitely rate it at 4.5 stars +, only because there were 2 failures to feed on the first 3 magazines. I fired about 65 ro 3032 Beretta Tomcat rnFine piece of workmanship. rnI consider this a backup to my Sig P365. rnAccuracy excellent. rnVery pleased with my purchase. Arrived as advertised, very pleased with the purchase. As always. I have several Berettas, but have to say this one is the worst for quality control, it is rough, the action is terrible for a Beretta...I can't believe they let it out of the factory without trying the slide, the popup button or the mag release....all are I waited on Bud's "Wish List" more than 6 months only because Beretta had a shortage of parts and wasn't making these much. This li'l puppy is extremely well-made, and of the highest quality. Concealable? OH, YEAH! While .32 ACP is not 9 MM powerful, it Glad to find one. Likes Remington 71 grain fmj ammo. Thanks to Buds for offering these This is a fun gun to own. The accuracy is better than you would expect. Fun to shoot and small enough to carry. About cooperation Become a byweb partner and receive payments of up to [b]30%[/b] from each payment of the attracted client to create the site. If you have attracted a client to create a site for us, then please provide the name of the client to our fee TOM MCHALE
January 2, 2019
BRASS TACKS: THE BERETTA 3032 TOMCAT
The Beretta 3032 Tomcat is a .32 ACP pocket pistol with a few twists. It's a double-action/single-action design, so the first trigger press is heavy. After that, the single-action press isn't too bad at all. The action is straight blowback, possible due t
Beretta 3032 Tomcat Variations
Beretta 3032 Tomcat Questions and Answers
Beretta 3032 Tomcat Price History