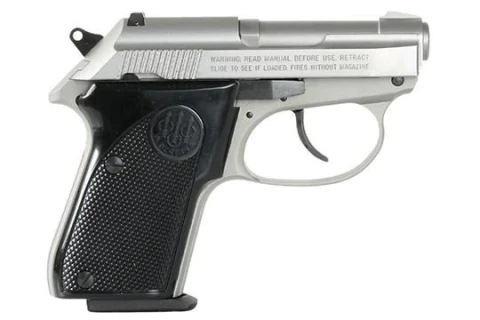 Beretta 3032 Tomcat
Brand New
About Beretta 3032 Tomcat
This double/single-action pistol is perfect for deep concealment or as a backup second handgun. Its tip-up barrel design makes it easy to load, operate and maintain, while its traditional looks give it the allure of a true classic. Specifications: Frame Material: Alloy Frame # of Mags: 1 Overall Length: 4.9" Additonal Info: Tip Up Barrel Gun Case: Plastic
Beretta 3032 Tomcat For Sale
Specifications
| | |
| --- | --- |
| Brand | Beretta |
| Category | Semi-Auto Pistol |
| Action | Single/Double |
| Caliber | .32 ACP |
| Capacity | 7+1 |
| Finish | Stainless |
| Sights | Fixed |
| Barrel Length | 2.4" |
| Gun Type | Semi-Automatic |
| Grip | Black |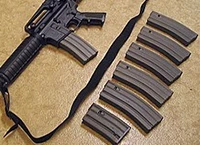 Detailed Review
The Beretta 3032 Tomcat is a subcompact handgun that is designed for concealed carry. It is a small, lightweight pistol that can be easily concealed in a pocket or purse. The 3032 Tomcat is part of Beretta's line of small-frame pistols, which includes both .22 LR and .32 ACP models.
The 3032 Tomcat has a 2.4-inch barrel and an overall length of 4.9 inches. It weighs just 14.5 ounces unloaded, making it one of the lightest handguns on the market. This makes it an ideal choice for those who need a discreet and easy-to-carry firearm for self-defense purposes.
The Tomcat's frame is made from lightweight aluminum alloy, while the slide is made from stainless steel. This gives the gun a sleek and modern look, and also helps to reduce its weight. The gun has a single/double-action trigger, which means that the first round fired will be double-action, while subsequent shots will be single-action.
The Tomcat has a capacity of 7+1 rounds, and comes with a magazine extension that adds an additional round to the magazine. The magazine release is located on the left side of the gun, and is easily accessible for quick reloading. The gun also features a manual safety, which is located on the left side of the frame, just above the trigger.
The Tomcat's sights consist of a fixed front sight and a rear sight that is adjustable for windage. The gun has a smooth and easy-to-operate slide, which makes it easy to load and unload. The gun also has a large ejection port, which helps to ensure reliable ejection of spent casings.
The Beretta 3032 Tomcat is a reliable and accurate handgun that is perfect for concealed carry. Its lightweight and compact design make it easy to carry, while its high-quality construction ensures that it will perform reliably when you need it most.
If you're looking for a high-quality subcompact handgun for self-defense purposes, the Beretta 3032 Tomcat is definitely worth considering. Its combination of reliability, accuracy, and ease of use make it one of the best handguns on the market for concealed carry.
Beretta 3032 Tomcat Comparisons
Beretta 3032 Tomcat Reviews Rodney C
November 19, 2019
After 200+ rounds....100% reliability, excellent accuracy out to 25 feet. Excellent build quality. Low recoil. Sights are minimal but it's a true pocket pistol. Total confidence in this firearm. Worth every penny. Stephen P
November 14, 2019
This is a Beretta Tomcat 32 caliber ACP pistol. Cute little pistol. Easily carried in a pocket without anyone noticing. I purchased a pocket holster for it at my local gun shop and a couple of additional magazines Dr Mark A D
September 21, 2019
Bud's did a great job as usual. But I hated this firearm. The black one made in 2019 is greatbut this one was not a not attractive. It is acully grayand black. Hated the color. Next the barrel release button was almost impossible to mange for the tip up b James F on
I would like to update my evaluation of this pistol since receiving it back from Remington and having a chance to fire it. I would definitely rate it at 4.5 stars +, only because there were 2 failures to feed on the first 3 magazines. I fired about 65 ro 3032 Beretta Tomcat rnFine piece of workmanship. rnI consider this a backup to my Sig P365. rnAccuracy excellent. rnVery pleased with my purchase. Arrived as advertised, very pleased with the purchase. As always. I have several Berettas, but have to say this one is the worst for quality control, it is rough, the action is terrible for a Beretta...I can't believe they let it out of the factory without trying the slide, the popup button or the mag release....all are I waited on Bud's "Wish List" more than 6 months only because Beretta had a shortage of parts and wasn't making these much. This li'l puppy is extremely well-made, and of the highest quality. Concealable? OH, YEAH! While .32 ACP is not 9 MM powerful, it Glad to find one. Likes Remington 71 grain fmj ammo. Thanks to Buds for offering these This is a fun gun to own. The accuracy is better than you would expect. Fun to shoot and small enough to carry. About cooperation Become a byweb partner and receive payments of up to [b]30%[/b] from each payment of the attracted client to create the site. If you have attracted a client to create a site for us, then please provide the name of the client to our fee TOM MCHALE
January 2, 2019
BRASS TACKS: THE BERETTA 3032 TOMCAT
The Beretta 3032 Tomcat is a .32 ACP pocket pistol with a few twists. It's a double-action/single-action design, so the first trigger press is heavy. After that, the single-action press isn't too bad at all. The action is straight blowback, possible due t
Beretta 3032 Tomcat Variations
Beretta 3032 Tomcat Questions and Answers
Beretta 3032 Tomcat Price History