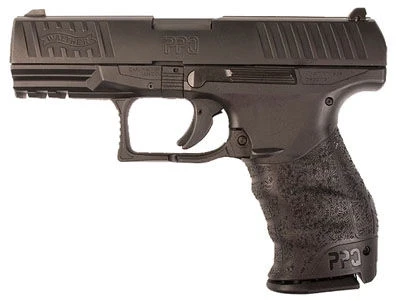 Walther PPQ WAP00Q40
Brand New
About Walther PPQ WAP00Q40
Comes with a new quick action trigger with a crisp pull and .1 reset. Ambidextrous slide lock and magazine release. QDT (Quick Defense Trigger). 100% Pre-cocked striker. New, cross-directional textured tactical grip with small & large backstraps. Adjustable rear and front sights. Loaded chamber indicator.
Walther PPQ WAP00Q40 For Sale
Walther PPQ WAP00Q40 Comparisons
Walther PPQ WAP00Q40 Reviews Martin B
November 15, 2012
Martin B on
This badboy is money well spent! Got to finally break it in and its awesome! The trigger is really smooth and has a very very small trigger reset (good for a swift double-tap). The recoil is not too bad.. it's a little more than I anticipated so i might l Daniil T
September 18, 2012
Very well made firearm, like a HKP30 for half the price, with a better trigger to boot. Speaking of, the trigger is amazing, it is probably the thing that really sets it apart from the competition. Bravo Walther! Have shot 200 through it already no FTF FT I was extremely excited about this weapon based on the reviews on Buds and on YouTube. Needless to say my experience with this weapon was not so rosy. Upon receiving the weapon I took it to the range and fired a couple boxes of rounds. I was extremely di Highly recommend the PPQ. I purchased the .40 and can't be any happier with it! Awesome trigger, outstanding ergonomics. I had to use the large back strap which is perfect for my hands. I carry a Glock 22 for duty. IMHO the Glock only beats it with the ab Highly impressed with this weapon, feels great in the hand with smooth trigger pull and action. Put 150 rounds through this gun with no problems first time out. Now I am anticipating the next time I take it to the field. Highly impressed with Buds and the Once I received it, I absolutely love it. Feels great in my hand. I've only been able to shoot 30 rounds through it so far. Can't wait to shoot more. My next gun will probably be the PK380 based on this PPQ. Very impressive weapon. Well built. Great trigger pull. Better than most of the other striker fire pistols in the market. I've had this gun about six weeks now. I sold my Glock 23 because the grip just didn't fit my hand the way I liked (my biggest dislike) and I wasn't particularly fond of the trigger even after polishing and experimenting with different connectors and spri
Walther PPQ WAP00Q40 Variations
Walther PPQ WAP00Q40 Questions and Answers
Walther PPQ WAP00Q40 Price History