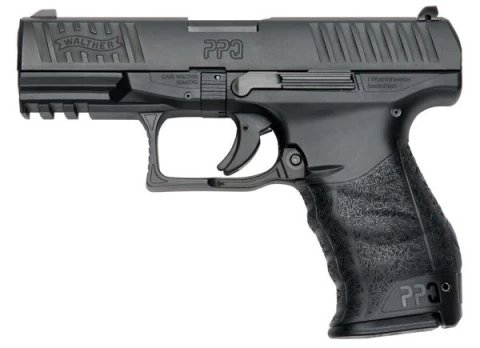 About Walther PPQ
The Walther PPQ is a feature-rich polymer pistol available in 9mm and .40S&W. The PPQ has a quick action trigger with a crisp pull and .1" reset. The slide and barrel are corrosion-resistant and tenifer coated. The PPQ is also standard with an extended, ambidextrous slide lock and magazine release. The Picatinny-Style accessory rail allows for easy addition of a light or laser. The slide features front and rear serrations while the molded grip has cross-directional texturing and includes small and large backstraps for a more individualized fit.
Walther PPQ Reviews Clarence O on
This is an excellent weapon. 9mm M1 Walther PPQ. Love the trigger. This will be with me for life. Recommended to others Walther has excellent feeling grips on most of their pistols and this one is no different. Mine runs good and feels great. very pleased with buds guns shop made many purchases online safe and simple do your research then go look and feel gun maybe youtube it even then buy and it ships to your local ffl dealer then you file form 4473 with fbi and get your response within minut Edward M
February 1, 2014
Of my 5 9mm compacts, the PPQ is my favorite hands down. I love my 19, however, it was easily dethroned as my favorite compact. I know Glock snobs will scoff at the notion, but basically it is a more ergonomic , rounded, and balanced version of America's I bought this gun about three months a go and I love it and I am considering buying another. The weapon feels good in the hand and a very well made gun. My wife even with her small hands had no problem with firing this gun. Matter of fact she was able to Laurence P I
January 17, 2013
Damn good-shootin' gun! I like it! Andrew B
December 8, 2012
Great, great pistol. Super-light DA trigger. Reset is about as short and pronounced as the P99 AS. The ergonomic grip is *slightly* better than the P99 design, but the predecessor didn't leave much room for improvement in that area-- aside from outward ap Jackie G
November 19, 2012
Just as advertised! Quick, Quick, Quick; The PPQ is a remarkable weapon. No other words can describe it further, you'll just have to pick one up for yourself like I did at: Budsgunshop.com. Jackie, Dr Erwin F
November 6, 2012
The Walther PPQ is a sweet little gun, nicely balanced, well made, in short a good product. I would rate it with the Sigs and HKs except for the polymer frame, which is not quite as sturdy. But for aesthetics and styling, super gun. At the range, nice er Fast shipping and another awesome gun from buds. This probably has the best trigger on the market for a polymer gun. 500 rounds of Winchester white box has gone through this gun in the last month without a hiccup. Christopher C
October 22, 2012
Best 9mm pistol on the market. I have small hands and many pistols feel huge but the PPQ with small back strap fits like a glove. I have put 1,200 rounds through it with absolutely no malfunctions or brass to the face. If your on the fence just purchase i I've had my PPQ 9mm for a while now and have run over 2000 rds through it. No technical issues, except 2 fail to fires right after I got it. Since then there have been no issues. The backs that come with it allow for some customiszation for the grip. The
Walther PPQ Questions and Answers
Walther PPQ Price History