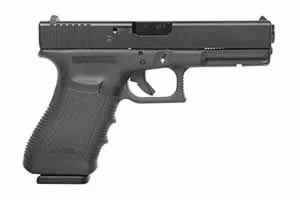 About Glock 20
The GLOCK 20 Gen4, in 10mm, provides nothing short of massive firepower. The use of GLOCK hi-tech polymer considerably reduces felt recoil. With muzzle energy of 550 ft/lbs and a magazine capacity of 15 rounds, this 10mm is your reliable companion on every hunt. The Gen4 edition now incorporates a wider selection of grip dimensions to make customizing your grip even more precise. Glock 20 Gen 4 Specs at a glance - Caliber: 10mm Barrel: 4.61 inches Overall Length: 8.07 inches Weight: 30.69 ounces (empty) Grips: Polymer, modular backstrap Sights: White-dot Action: Semi-auto Finish: Polymer frame/Tenifer slide Capacity: 15+1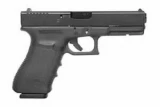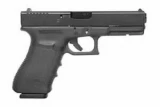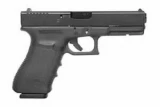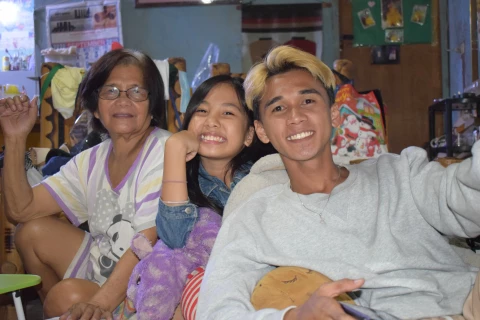 Detailed Review
Glock 20 is a popular semi-automatic pistol that was introduced by Glock in 1990. The gun is chambered for the 10mm Auto cartridge, which makes it a powerful weapon suitable for hunting, self-defense, and law enforcement purposes.
The Glock 20 has a polymer frame that is both lightweight and durable. The slide is made of steel, which provides strength and durability to the gun. The gun has a safe-action trigger system, which ensures that the gun will not fire unless the shooter pulls the trigger.
The Glock 20 has a standard magazine capacity of 15 rounds, which can be extended to 33 rounds with an extended magazine. The gun has a barrel length of 4.6 inches and an overall length of 8.22 inches. The weight of the gun, when loaded, is approximately 39 ounces.
The gun is known for its accuracy and reliability. The recoil is manageable, which makes it easy to shoot. The gun has a fixed front sight and an adjustable rear sight, which allows the shooter to make precise shots at different distances.
The Glock 20 has a number of features that make it popular among hunters. The gun has enough power to take down big game animals, such as deer and elk. The gun is also suitable for hunting in areas where dangerous animals, such as bears, are present.
The gun is also used by law enforcement agencies around the world. The power of the 10mm cartridge is useful in situations where the officer needs to stop a threat quickly. The gun is also reliable, which is important for law enforcement officers who rely on their weapons to protect themselves and others.
Overall, the Glock 20 is a versatile and powerful weapon that is suitable for a variety of applications. Whether you are a hunter, a law enforcement officer, or a civilian looking for a reliable self-defense weapon, the Glock 20 is a great choice.
Glock 20 Reviews Harry S on
Absolutely love this gun.Glock Perfection is not just a slogan.Feels great in my hand.Very accurate for such a powerful weapon.Bud's fast shipping service as always had it to me in a day and a half. john B
September 18, 2019
Great shooter and Buds was great as always fast shipping and gun looked great Everything was as described in the description and the shipping was fast Very pleased with my Glock 2020/G4 and have utilized Buds for years,rnrnTop notch service and reliability. A great 10mm handgun. It always goes bang and I would trust my life with it. The only issue I have with it is that I can%u2019t shoot many rounds with it because it hurts my trigger finger. I hear this is a common issue though with a few 10 mm handguns an Excellent, Glock 10mmrnthere's really not much to add... ?Why did the Hen cross the road? ...to get Glocked by the Roaster !!! Very satisfied with my purchase from budsgunshop. Received my pistol in three days, will definitely but from Buds again. Pistol came in excellent shape. JAVIER P
February 21, 2019
Firepower.! good pistol, shoots great no problems. only thing is i like Glocks older finish compared to the new finish. still solid though . Joseph F
February 19, 2019
This is my first Glock and I have to say that I am impressed with this Glock 20 . Very accurate Very happy with my Glock. David G
September 30, 2018
I bought the Glock 20 Gen 4 online and it was shipped to the FLL in a few days. All easy and good. I did rent one before actually making the purchase to be sure I was making the right purchase. I just got home from picking it up and shooting it 200 rounds Kristi B
September 27, 2018
LOVE my new Glock 20 4gen 10mm!!! Fast shipping. Will buy from Buds again.
Glock 20 Questions and Answers