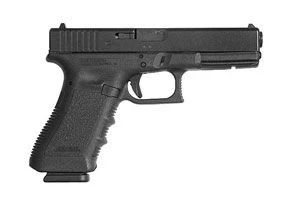 About Glock 17
Created for experts, the GLOCK 17, in 9x19, is the most utilized law enforcement pistol in the world. Due to its unparalleled dependability, large magazine limit of 17 rounds in the standard magazine, and its low weight, it is trusted by policemen all over the world. With our new Safe Action trigger framework, the G17 9x19 pistol is safe, simple, and fast, exactly what you need in a high-pressure world. On this page we've curated the best price retailers with high customer satisfaction that sell the Glock 17. If you scroll to the bottom of the page, you'll find a list of reviews from real owners of the Glock 17 to help you determine if it's right for you!
Specifications
| | |
| --- | --- |
| Brand | Glock |
| Category | Handguns |
| Action | Safe Action |
| Caliber | 9x19mm Parabellum |
| Capacity | 10+1 |
| Finish | Black |
| Sights | Fixed |
| Barrel Length | 4.48" |
| Gun Type | Pistol |
Glock 17 Listings
Glock 17 Reviews Joshua davis
April 14, 2021 James Traffanstedt
April 9, 2020
I have a Gen 1/2 made in 1985 that balances very well in my hands. I do have a Hogue sleeve on it for retention. I also use a NY trigger spring with a minus disconnect. Shoots like a revolver intentionally. I have never had a slam fire and neither hav Joel Nadler,
January 3, 2019
The Glock 17 Gen 5: A Subjective, Yet Systematic Review (0-2000 Rounds)
The Gen 5 when aggressively reloading a magazine will automatically go back into battery without racking the slide or releasing the slide stop. There is definitely cosmetic wear to the new barrels (two rings quickly appear with use). The non-worn parts of Glock G17 G3 10+1 9mm 4.48"
This is the basic, no bones, raw, Glock that made this company what it is today. Such a flawless pistol with no problems whatsoever. Absolutely fun to shoot and with great accuracy. Love this pistol.
Glock 17 Questions and Answers
Asked by
geoz48
4 years ago
2 10 round mags see ********Description: GLK 17 9MM PST 10RD FS Brand: Glock Model: Gen 3 17 Type: Pistol: Semi-Auto Caliber: 9MM Finish: Black Matte Action: Safe Action Sight: FT: White Dot RR: White Outline Barrel Length: 4.49 Overall Length: 7.32 Weigh
Asked by
geoz48
4 years ago
Full capacity magazines will absolutely fit and function 100%! However, if you insert a 17 round magazine into your "CA legal" Glock 17 within the borders of California, the first thing that will happen is the gun will malfunction by failing to strip a ro