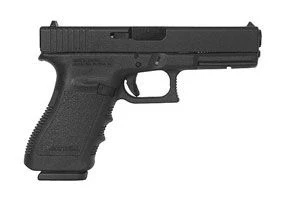 About Glock 21
Remarkable for its accuracy and light recoil, the GLOCK 21SF delivers the legendary stopping power of the .45 AUTO round with 10/13 round magazine capacity. Countless law enforcement units swear by the G21SF pistol, and that's why this powerful, lightweight, all climate workhorse is standard issue from the North to South Poles. The SF model reduces the circumference of the receiver at the rear, or "back strap," offering increased comfort and controlespecially for shooters with smaller hands.
Glock 21 Reviews Mathew Y
November 17, 2019
Mathew Y on
The company of Glock says it in the name quality it's why cops choose it with their lives Bradford P
August 29, 2019
Received my new 45 ACP Glock was happy with the condition I got it in, shoots good and feels good just which there was a little more factory grease in it but over all very happy with this firearm. Great weapon at a great price fits my hand perfect even though I'm of small stature have put about 300 rounds through it without any problems whatsoever and I would not hesitate to recommend this weapon. By far the best carry pistol in production. As a Smith Im asked quite often what Someone should get their wife or what someone to get for themselves and I always tell them Glock because it always goes bang no matter what. And don't alter it in anyway just Joshua M
November 8, 2018
What can I say? It's a Glock. It fires perfectly with almost no up keep. The SF frame fits nicely in my hands. Only gripe about the weapon is that it only came with 2 magazines. My gen 3 Glock 22 RTF 2 came with 3 magazines. I ordered the 3rd mag on my ow after price match and 5$ off coupon i got this pistol for 473$, showed up with a couple slight blemishes on slide but i really dont care for the price i paid. i havnt takin to the range yet and i doubt it will be more accurate than my 1911 by i have more Awesome gun, it's a glock and its 45.. soooooo ?? Transaction was quick and painless great shipping on buds end, gun was in new condition shoots smooth easy to handle will buy agian from buds! As good a shooter as any on the market. Had glock had a factory, assembly plant in the USA . In 1984, our military would be armed with a glock. My issue 1911. Was a great weapon. But rattled like a b.b. in a Pop can. I can hit playing cards consistantly a Love each and every Glock I own! With that said, was a little diappointed when this arrived with several small scratches on top of the slide from what appears to be from the cleaning brush rubbing the slide while in the box. As one of the other reviews noted, it's a big ole' Glock, what's not to like??? The order process was a little slow because I paid via E-check, but it was definitely worth the extra wait time. As for the G21SF, it arrived at my FFL free of scratches or bl This is my second lay away purchase with Buds. Both transactions have been perfect! Just received my Glock today. Paid off the balance on a Thursday and was delivered to my FFL dealer on Monday. Seamless purchase with Bud's_highly recommend. In terms of m
Glock 21 Questions and Answers