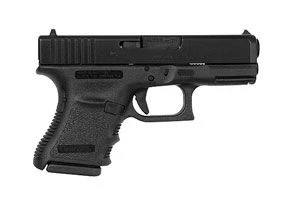 About Glock 29 Gen 4
The GLOCK 29 Gen4 offers superior versatility with the high performance 10mm round. With reduced dimensions compared to the standard size GLOCK 20, the subcompact GLOCK 29 is also suitable for concealed carry. The Gen4 offers a more aggressive grip pattern to allow a more secure purchase on the pistol, even with gloved hands. While the G29 comes in a small size, it maintains the standard 10-round magazine capacity. Specifications: Weight: 26.83oz # of Mags: 3 Overall Length: 6.88" Gun Case: Plastic
Glock 29 Gen 4 Comparisons
Glock 29 Gen 4 Reviews Sean V on
Glock 29 is the truth I will keep shopping with buds for sure u can%u2019t go wrong As usual my gun was received by my FFL very quickly, Thanks Bud's. I have been a 10mm shooter for many years and a Glock fan for just as long. This gun in now my everyday carry weapon in a shoulder holster. It is very compact lighter than I expected an First off,I have purchased several firearms from buds and I have to compliment them on this purchase.I ordered on a late Sunday evening and it arrived at my il ffl by Wednesday afternoon.great job,buds.now the pistol.I just ran 200rds at the range with tw Classic Glock, high capacity compact, serious power I was looking for a 10mm. but not in a 1911 set up. This Glock 29 seemed like the logical choice. You get Glock reliability and the fun and power of the 10mm. The 29 feels really good in my hand and range day came and went with zero issues of any kind. Th Great item as should be expected from Glock, Already put 400+ rounds thru it and not a single jam, misfire or any thing negative. Its a Gen 4 and Im left handed and it was east to witch the magazine release to other side. Its my carry piece so I don't hav This is my first Glock. Never really liked a semi auto without a hammer. However more and more are being made w/out hammers so after owning a cpl Springfield(which is my favorite of all pistol makers) nonetheless I wanted a 10mm and ibwant2d the option fo I love this little cannon it goes everywhere with me and like always buds is awesome! Being familiar with the G19 and G27, the first impression of the G29 G4 was that while it is a bit thicker than I am used to, once I started shooting it I was very pleasantly surprised at how controllable it was. Using Remington 180GR and some American Ea I order a glock model 29 4th gen. I like your price , shipping speed was great. Gun arrived in perfect shape. I will not hesitate to order again and recommend you to friend Just received this firearm and all I can say is WOW about how much power this 10mm fires and how great this Glock 29 handled it! Definitely recommend it for EDC or for the outdoors. I have heard and read so much about the G29 Gen 4...I don't own many handguns, but I have been so impressed with the G29 Gen4...I thought the recoil would be annoying...no big deal...it seems to be just a little more then my G42 380...my only criticism is
Glock 29 Gen 4 Variations
Glock 29 Gen 4 Questions and Answers
Glock 29 Gen 4 Price History