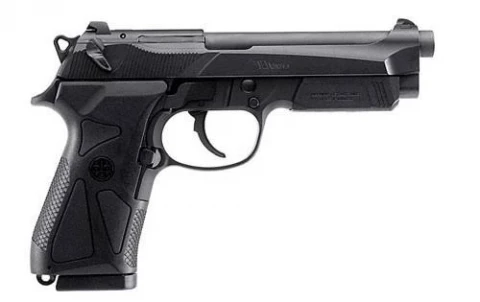 About Beretta 90-TWO
The newly designed frame of 90two pistol ensures trouble-free insertion and holster extraction, thanks to its rounded and truly snag-free surfaces. Inside the frame, near the disassembly lever, a metallic recoil buffer reduces the impact of the slide assembly against the frame during the shooting cycle. By redistributing the stresses, the recoil buffer increases the service life of the firearm. Trigger guard is also rounded to ensure, when firing with two hands, the correct positioning of the supporting hand.
Specifications
| | |
| --- | --- |
| Brand | Beretta |
| Category | Handguns |
| Action | Double Action |
| Caliber | 9x19mm Parabellum |
| Capacity | 17+1 |
| Sights | Night Sights |
| Barrel Length | 4.9" |
| Finish | Black |
| Gun Type | Pistol |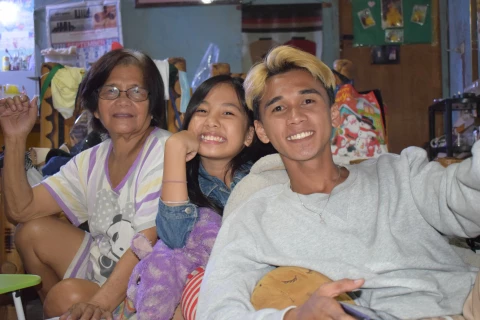 Detailed Review
The Beretta 90-TWO is a semi-automatic pistol that was introduced in 2006 as an update to the classic Beretta 92 design. The main goal of the 90-TWO was to improve upon the ergonomics and reliability of the Beretta 92 while maintaining the same accurate and dependable performance that the original firearm was known for.
The 90-TWO features a polymer frame that is available in black or tan and has a textured grip that provides a secure hold and improved control when firing. The frame has also been designed to accommodate a variety of user preferences, including different sizes of backstraps, magazine releases, and slide stops.
One of the most notable changes to the 90-TWO compared to the Beretta 92 is the addition of an accessory rail on the frame. This allows users to attach lights, lasers, or other tactical accessories to the firearm for improved versatility and functionality. The front sight on the 90-TWO is also interchangeable, making it easy to customize the firearm for specific shooting scenarios or personal preferences.
The magazine capacity of the 90-TWO is 17 rounds of 9mm ammunition, which is one more round than the Beretta 92. The magazines for the 90-TWO are also compatible with the Beretta 92, allowing users to swap magazines between the two firearms if needed. The 90-TWO also features a reversible magazine release, making it comfortable for left-handed users to operate.
The 90-TWO has a DA/SA trigger system, meaning the first shot is fired with a long double-action pull and subsequent shots are fired with a shorter single-action trigger pull. The trigger pull weight is approximately 11.5 pounds for double-action and 4.4 pounds for single-action. The trigger reset is crisp and short, allowing for quick follow-up shots when needed.
The 90-TWO has a 4.9-inch barrel and an overall length of 8.5 inches. It weighs just over 33 ounces, making it a manageable weight for range sessions or everyday carry. The firearm also features a loaded chamber indicator and a decocking lever for added safety and convenience.
In summary, the Beretta 90-TWO is a reliable and accurate semi-automatic pistol that improves upon the classic Beretta 92 design with enhanced ergonomics, an accessory rail, and increased magazine capacity. Its interchangeable front sight, reversible magazine release, and customizable frame make it an excellent choice for shooters of all sizes and preferences.
Beretta 90-TWO Comparisons
Beretta 90-TWO Reviews FamilyOfShooters
January 4, 2019
beretta review
It is 9 millimeter stands on double action, it's really smooth, no malfunctions, no problem in general. It's a pretty heavy gun weighs 32.5 ounces. Reliable weapon, nice guns, and really worth it. Beretta 90-Two| NO Thank you!
This gun is a hammer fire assistance, the trigger is extremely light, the magazine is really nice metal constructed they just solid. The pistols f Gunslinger Firearms and Gear
January 4, 2019
Beretta 90 Two
The first thing you will notice is it has a cover hiding a Picatinny rail. The front strap and the back strap of the grip are covered, it is also a polymer base, the magazine release is different, the slide stop is different. The sight are a Novak type, l Dave Spaulding
January 4, 2019
Beretta 90-Two
The Beretta 90-Two descends directly from the Beretta 92F with its cut-away slide and long barrel. It differs from the original in its new rounded contours that offer a snag-free drawing capability, interchangeable grip and light/laser-mounting rail built plouffedaddy
January 4, 2019
Beretta 90-Two Review
100% reliable so far (about 700 rounds), good sight picture, balances well in the hand, with the D spring, DA pull is very good (smooth, not too heavy/light), accepts standard lights/accessories, finish is beautiful, it's a very good looking gun in my op I bought this pistol to convert it to 9mm. I achieved the conversion by simply replacing the 90-Two's .40 S&W barrel with a 9mm barrel from my Beretta 92FS. I also used 9mm Beretta mags. As a 9mm it shoots great, yet not as great as my 92fs. As a I too live in Iowa and I don't know of anyone who needs an aslaut rifle. Whose heads are we going to be keeping down. The Army gave me an assault rifle and I only used it as such a couple of times. I did fire a fair amount of single rounds down range thou After a LOT of research I settled on the 90-TWO 40 S&W and could NOT be happier. Thousands of rounds later, the weapon performs FLAWLESSLY. Nothing less than I expected from Beretta Daniel D
October 13, 2012
This was the first handgun I have purchased and I like it a lot. I enjoyed shooting it and had no problems with it. Having owned & shot a number of pistols, this has to be my favorite for function, size, ease of use and maintenance. Recoil is very manageable. Great pistol to train someone new to the shooting sports (i.e. women, yound adults). I added an optional LaserM In all a definite improvement on the old 92, i do however remain apprehensive about its plastic recoil spring assembly. I carry it everyday to duty. Its recoil is something every handgun enthusiast should experience. Trigger is truly hair break crisp some Took my time researching and trying out a bunch of handguns before buying my first one... ultimately decided on picking up this Beretta. Absolutely love this gun! First words out of my mouth after the first clip were "No buyers remorse here!..." and the 9
Beretta 90-TWO Variations
Beretta 90-TWO Questions and Answers
Beretta 90-TWO Price History