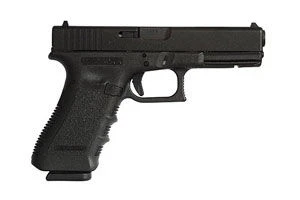 About Glock 22 Gen 4
The GLOCK 22 Gen4, in .40, introduces revolutionary design changes to this model of perfection that the majority of law enforcement across the country put their trust in every day. The Modular Back Strap design of the G22 Gen4 lets you instantly customize its grip to adapt to an individual shooter's hand size. The surface of the frame employs the new scientifically designed, real-world-tested, Gen4 rough textured technology. Internally, the new GLOCK dual recoil spring assembly substantially increases the life of the system. A reversible enlarged magazine catch, changeable in seconds, accommodates left or right-handed operators. The G22 Gen4 .40 caliber retains the GLOCK accessory rail for your attachments.
Glock 22 Gen 4 Comparisons
Glock 22 Gen 4 Reviews joshua guerrero
October 14, 2012
I own 5 Glock 22s from Gen 1, 3s, RTF & 4. I love all of them they are so easy to use and last forever. All of them except the gen 4 came from police trade ins. Not sure how many rounds the cops put through them, but have yet to have a issue with any of t Bryce D on
I love this firearm. I have had it in the gen 4 configuration for over a year and have never had a single misfeed with over 1000 rounds fired. The gun is reliable and I am confident that it will fire if I ever need it to. I purchased it for three gun beca I have owned a Glock 22 for a while now and I have been pleased with it for the most part. I also own a Smith an Wesson M&P and used to have a Springfield XDm. I found the M&P to be a better overall pistol but liked the Glock's feel more than the Springfi
Glock 22 Gen 4 Variations
Glock 22 Gen 4 Questions and Answers
Asked by
geoz48
4 years ago
Hey Zakk, Sorry I was too deep in buddy. I don't quit at that point. You do have the option of buying it now and applying your bids to it so you don't lose your cash on it.
Asked by
geoz48
4 years ago
what Does the Glock 22 come with ??
this Gen4 Glock 22 comes with (3) 15rd Magazines from the Glock Factory standard. (Packaging): Black Plastic Case - (Features): Magazine Loader, Cleaning Rod and Brush; Interchangeable Backstraps, Reversible Mag Catch.
Glock 22 Gen 4 Price History