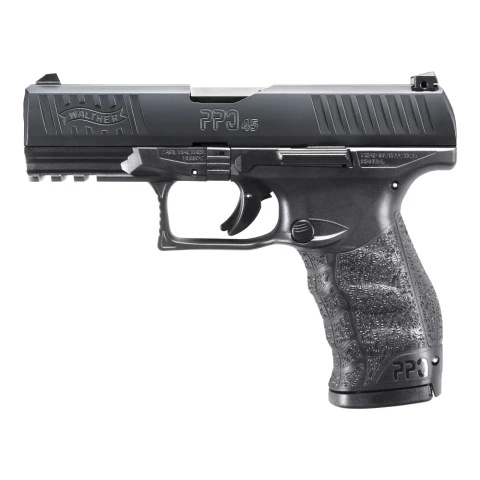 About Walther PPQ M2
The PPQ M2 is a true breakthrough in ergonomics for self-defense handguns. The sculpted grip meshes smoothly into the hand. The trigger is the finest ever on a polymer, striker-fired handgun. The styling is elegant and trim. What's more, the PPQ M2 has been updated with a new traditional reversible mag release button. Specifications: Model: PPQ M2 # of Mags: 2 Overall Length: 7.1" Additional Info: 100% Pre-Cocked Striker Additional Info: Cross-Direction Textured Grip Additional Info: Front & Rear Slide Serrations
Walther PPQ M2 Comparisons
Walther PPQ M2 Reviews Thomas S on
This is my first handgun in over 35 years. I was looking at the H&K VP9 and the PPQ.I decided on the PPQ because of recommendations from a few people and the price. I could not be happier. My mistake at first was using steel case ammo, I had 2 jams in the Awesome gun my new favorite. Buds guns was super fast with the order and at a great price. Will buy again soon Love the PPQ! My wife is a new shooter, it was her favorite among the 10 or so that we tried out at the gun range. Probably one of my two favorite handguns! Robert H
September 28, 2018
I put so many thousands of rounds through this PPQ with no issues. The quality and performance is there with the PPQ. Buds was also super in there support and shipping of the gun. Laura F
September 11, 2018
My first Gun Purchase and a Great Experience!
The Walther was recommended to me by a friend at work. I rented many different models at the range and kept going back to this Walther, (PPQ-m2 9mm). It just felt right in my hands. Also the range officer recommended it as well and so I kept renting it to Thomas C
September 11, 2018
Love this handgun!
It is incredibly ergonomic and comfortable to shoot. The trigger is hands down one of the best on the market. I highly recommend this handgun! Gunbuyer is awesome, Firearm is awesome
Gun buyer has the best prices around and an incredible customer service. Wanted to wait to review to get my gun broken in. Have about 1500 rounds so far and not a single malfunction or failure to load (although I am meticulous about cleaning which helps). I own several Glock pistols and I enjoy shooting the Walther PPQ ,absolutely fantastic ergonomics, crisp trigger , low recoil. 3th gun I have bought through Buds great customer service and the gun was everything I expected, Thanks will definitely buy from Superb Gun and Buying Experience
My friend and I both tried this gun at the range and fell in love. This site was extremely cost efficient for us, and our guns were shipped in the same box to our FFL. I have carried it from day one and love it. The ergonomics fit me perfectly and it shoo 2015Rubicon
August 19, 2018
Q5 accuracy
I just bought a Q5 match recently. Put a Burris fastfire 3 red dot on it,took it to the range and dialed it in. Fired all sorts of ammo without any problems and feels great in my hand. But what really impressed me about this gun was its consistant accurac The pistol was in good condition when it arrived from buds. I didn't keep the gun for long due to certain preferences. The trigger is great right out of the box. The grip texture and "superior ergonomic grip" wasn't as great to me as what was raved about Great experience
Ordered my gun came brand new with the tags still on it . Very quick shiped the next day and arrived at the store the next day very happy with my overall experience
Walther PPQ M2 Variations
Walther PPQ M2 Questions and Answers
Walther PPQ M2 Price History