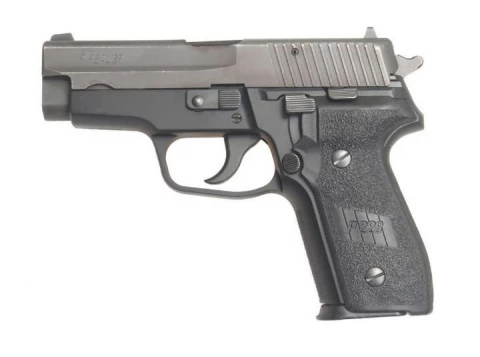 About SIG Sauer P228
Sig Sauer is known for their high quality pistols and with the Sig Sauer P228 Semi Auto Pistols you can be assured that your personal and protection needs are met.  
Specifications:
OVERVIEW
Manufacturer

Sig Sauer

Series

P228

Model

P228

Manufacturer Part Number

UDE22-89-B1

UPC

798681306398
DEFINING CHARACTERISTICS
Caliber

9mm Luger (9x19 Para)

Capacity (Standard)

13

Barrel Length

4.4
PERFORMANCE
Stock Structure

Sig Sauer P228
AESTHETICS
Frame Finish

Blued
OTHER SPECS
Action

DA/SA (Double/Single Action)

Grip Material

Polymer

Sights (General)

Contrast
Specifications
| | |
| --- | --- |
| Brand | SIG Sauer |
| Category | Semi-Auto Pistol |
| Action | Double Action Only |
| Capacity | 13+1 |
| Sights | Contrast Sights |
| Caliber | 9x19mm Parabellum |
| Finish | Blued |
| Gun Type | Semi-Automatic Pistol |
| Grip | Polymer Grip |
| Barrel Length | 4.4" |
SIG Sauer P228 Comparisons
SIG Sauer P228 Reviews Okay airsoft pistol.
I bought this a couple if weeks ago for a less lethal means of pest control. It shoots fairly well but it's inaccurate. If you are looking for a means of pest control just resort to a BB gun. If you are trying to hit the broad side of a barn from less tha cnewell04
February 15, 2018
Good Gun!
I bought this gun a month ago thinking it wouldn't be that great. It is holding up very well and fires really fast for a spring loaded pistol, it is also good for beginners. It is a little hard to pull back, but you can fix it by opening it up and lubrica Dadof4Awesomekids
February 15, 2018
Good start
Bought this as a way to learn safe weapon handling, develop a sight vision and develop their overall sight field. Received the gun fast from Buds as usual. P228 looks brand new, sights are not as bright, but it shoot AMAZING. It is an awesome gun, and with the $60 for the SA/DA conversion it was beyond worth it. You will not regret this purchase!! Yeong-Sheng Y
August 16, 2013
Very impressive. Looks like brand new. Could not find any parts that has sign of wears. Both magazines are brand new. I may guess that this CPO P228 is an unissued one. Night sights are AE coded, kind of dim. The box read excellent condition, but was refinished so well, it looked brand new. The guys at the gun shop I used for the transfer said they had never seen a pre-owned that looked and operated so well. Great job Sig and Buds. Shoots like a dream. My firs The gun arrived very quickly from Bud's. Picked up at my FFL in just a few days. Gun looked brand new. I have put about 100 rounds down range with no failures using cheap ammo. Only downside is long trigger pull with DAO trigger, but easily get used to it Ths pistol really does look like new. Highly recommended. Incredibly fast service. Thanks Bud's. FIVE STARS FOR BUDS AND FOR SIG. AWESOME GUN. MY FFL SAID "IS THAT A USED GUN". IT LOOKS LIKE NEW AND SHOOTS GREAT I ACTUALY HAVE A 229 IN 357 SIG AND LOVE IT BUT THE 228 FITS BETTER IN MY HAND AND 9MM MUCH CHEAPER TO SHOOT I HAVE PURCHASED SEVERAL GUNS F This gun came clean and looks great. Great price and great gun. Buds shipping was fast and I have no complaints about them. The only strange thing is that the gun came w/ a threaded barrel. This is great Gun, love it and got plenty compliments when I picked up. As for Buds terrific service, and fast shipping. Ordered on Monday picked up on Thursday Awsome!!! Exactly as advertised!! Looks better than a new one!!
SIG Sauer P228 Variations
SIG Sauer P228 Questions and Answers
SIG Sauer P228 Price History