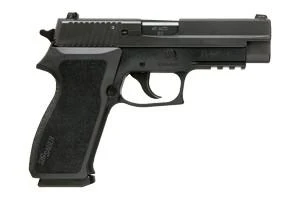 About SIG Sauer P220
Sig Sauer P220 45 cal. Used. Good condition. holster wear. One mag. Holds 8 rounds. Gun only. No box, no holster. Any questions just ask. Want more pictures just let me know. Thank you for your interest.
Specifications
| | |
| --- | --- |
| Brand | SIG Sauer |
| Category | Handguns |
| Action | Single/Double |
| Caliber | .45 ACP |
| Capacity | 8+1 |
| Finish | Black |
| Sights | Night Sights |
| Barrel Length | 4.4" |
| Gun Type | Pistol |
| Grip | Black |
SIG Sauer P220 Listings
SIG Sauer P220 Comparisons
SIG Sauer P220 Reviews fou1 on
I like it better than 1911s. If you get it, get one with the SRT trigger or just install one. They need to figure out a way to decrease the bore axis. Canadian Backwoods
September 18, 2016
Incredibly beautiful gun. My 1996 sig p220 shoots as good as any gun I own. I only own one custom 1911. A guncrafter 50 / 45 gi model one. My sig has never failed me. As a duty gun and now as a full time carry piece. I sleep well knowing its under my pillow, and after thousands of Jared Janicki
April 3, 2016
That is one beautiful gun! I've had my Sig P220 (carry model, slightly smaller than regular P220) or about 5 years now. Other than a bit of sticker shock, I can't think of a bad thing to say. The gun fits my hand like it was made for it. The recoil is quite comfortable, and it trac Gene Pozniakoff
January 27, 2013
My summery says it all. The best trigger and accuracy of any .45! I have professionally carried a P220-1 (European) since the 80's. It is totally and absolutely dependable with any ammo and in any situation. While not as small as some of the "concealed carry" pistols it carries quite well. Accuracy is phenominal.With th This pistol shoots so accurately right out of the box. The first time I used it I had 5 shots within 2 inches at 15 yards and I am not the most accurate shooter. I have fed many different manufacturer's ammo without issue. This pistol is boring accurate. I have thousands of rounds through my battered P 220 and it has never let me down once. The only failures to feed came from an aftermarket mag. I own 15 other handguns and still come back to the P 220 as my something goes bump in the night gun. It will no
SIG Sauer P220 Variations
SIG Sauer P220 Questions and Answers
Asked by
geoz48
4 years ago
Seems the 220R does not have a lci or mag disconnect, except in the California compliant model (220R-CA).
Asked by
geoz48
5 years ago
Nothing unique except for whether it has been "tested" and/or approved for sale in Mass. This is what's been approved in MASS. as of 09-2017. The Sigs start on page 9 : mass.gov/files/documents/2017/10/06/Approved%20Firearm%20Roster%209-17.pdf
SIG Sauer P220 Price History