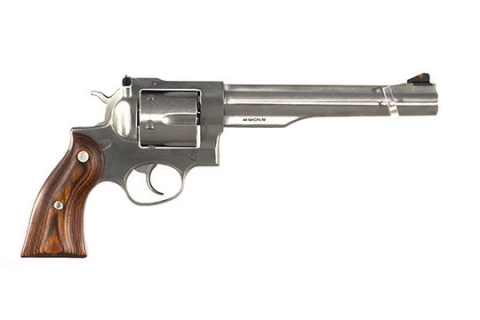 Ruger Redhawk 5001
Brand New
About Ruger Redhawk 5001
FAMILY: Redhawk Series  MODEL: Redhawk  TYPE: Revolver  ACTION: Double / Single Action  FINISH: Stainless  STOCK/FRAME: Steel Frame  STOCK/GRIPS: Wood  CALIBER/GAUGE: 44 Magnum  CAPACITY: 6  BARREL: 7.5  OVERALL LENGTH: 13  RATE-OF-TWIST: 1-in-20  SIGHTS: Adjustable  SAFETY: Transfer Bar  ADDL INFO: Ejector Shroud  GUN CASE: Plastic
Ruger Redhawk 5001 For Sale
Specifications
| | |
| --- | --- |
| Brand | Ruger |
| Category | Handguns |
| Weight | 49 oz |
| Action | Double Action |
| Caliber | .444 Marlin |
| Capacity | 6 |
| Finish | Stainless Steel |
| Gun Type | Revolver |
| Sights | Adjustable |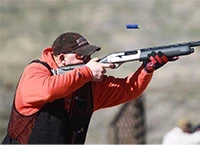 Detailed Review
The Ruger Redhawk 5001 is a powerful and versatile revolver that is designed for hunters, shooters and those who demand the very best in terms of accuracy, reliability and performance.
At the heart of the Ruger Redhawk 5001 is a solid stainless steel frame that provides exceptional durability and long-lasting performance. This revolver is built tough to withstand even the most demanding shooting conditions, making it the perfect choice for both professionals and enthusiasts alike.
One of the key features of the Ruger Redhawk 5001 is its large, six-round cylinder that allows you to fire multiple shots without having to reload. This makes it an ideal choice for hunting, target shooting and other shooting applications where quick follow-up shots are essential.
The revolver also features a smooth, double-action trigger that delivers a crisp and responsive trigger pull, allowing you to fire accurately and consistently with each shot. The trigger is also adjustable, allowing you to fine-tune it to your personal preferences and shooting style.
Another key feature of the Ruger Redhawk 5001 is its adjustable rear sight, which allows you to easily adjust windage and elevation for maximum accuracy. The revolver also comes with a front sight that is easy to acquire and helps you to aim accurately under various lighting conditions.
The Ruger Redhawk 5001 is chambered in .45 Colt, which is a powerful cartridge that delivers exceptional stopping power and penetration. This makes it an ideal choice for hunting big game or for self-defense situations where you need a reliable and powerful handgun.
The revolver also features a comfortable, ergonomic grip that allows you to hold the gun securely and comfortably, even during extended shooting sessions. The grip is made from durable materials that provide a secure and slip-resistant surface, ensuring that you maintain a firm hold on the gun at all times.
In addition to its exceptional performance, the Ruger Redhawk 5001 is also a work of art, featuring sleek lines and a classic design that is sure to turn heads wherever you go. Whether you're a professional hunter or a seasoned shooter, this revolver is sure to provide you with the accuracy, power and reliability you need to succeed.
Ruger Redhawk 5001 Comparisons
Ruger Redhawk 5001 Reviews Crasnic
November 28, 2015
I'm really liokong forward to making the final adjustments to this thing and seeing how it works out for you. I've often thought about shooting a deer with my own .44 Magnum. You're living the dream if you can make it happen this year! Frank Seguin
August 17, 2012
Frank Seguin on
Shoots anything I put through it. Capacity...how many .44 mag rounds does it take? I'm big enough that I can conceal carry except a little on the haevy side (about the same as a FS 1911. Simple design that always goes bang and easy to just pull the trigge
Ruger Redhawk 5001 Variations
Ruger Redhawk 5001 Questions and Answers
Ruger Redhawk 5001 Price History