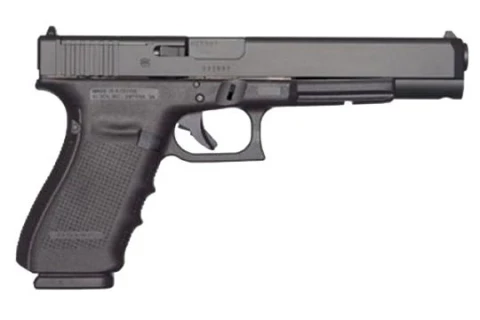 About Glock 40 Gen 4
The Glock 40 Gen4, is chambered in 10mm and has a full 6-inch barrel for an improved velocity.The G40 Gen 4 is a powerful yet easily carried pistol; perfect for the outdoor person, hunter, or sport shooter. It is designed to give the handgun hunter the ultimate choice in semi-automatic gaming pistol and has proven to be more than capable of taking down game such as whitetail deer, russian boar, and feral hogs. Glock engineers have developed the Glock Modular Optic System (MOS) to simplify mounting of popular optics without costly custom machining of the pistol's slide. The MOS is offered with cover plate when no optic is mounted and four plates options to comply with the specifications of some of the most trusted optic manufacturers in the industry. MOS gives you the option of adding tall iron sights allowing the optic and the iron sights to co-witness.
Specifications
| | |
| --- | --- |
| Brand | Glock |
| Category | Semi-Auto Pistol |
| Caliber | 10mm Auto |
| Capacity | 15+1 |
| Finish | Black |
| Gun Type | Semi-Automatic Pistol |
| Sights | Adjustable |
| Action | Safe Action |
| Grip | Polymer Grip |
| Barrel Length | 6.02" |
Glock 40 Gen 4 Comparisons
Glock 40 Gen 4 Reviews Was hot to get a 10mm auto.Never had a Glock, so decided to try one. Not a handsome pistol, but it shoots fine. Changed to the large beaver tail and it fits my very large hand fine. Not crazy about the trigger, but want to shoot it more before deciding wh David L on
The Glock 40 is a great shooting 10mm with very manageable recoil. I have had no malfunctions. Buds has fast shipping and helpful employees. It%u2019s everything you would expect from a glock I was expecting a little more accuracy I only get about 3 in at 25 with my best reloads but I haven%u2019t tried everything yet and I%u2019m still getting use to the Glock trigger most of my other pistols william s
February 21, 2019
Excellent sight radius, mos system is flawless. Well played Glock Great quality gun from Glock. Easy transaction and fast shipping from Bud's. Would recommend the gun and great service from Bud's to anyone. MountainMan Vinny
June 15, 2018
Fires smooth as silk, I cannot complain about a thing, it comes with 3 magazines!!! You cannot beat this price for a very fine weapon, and its 10MM!!! Very fast shipping from Bud's. Product exactly as represented. Will buy from Bud's again. This pistol is a beast! Glock dependability and little kick with 180 grain. Mounted a burris fast fire 3 using plate #1. Heard of people using too long or too short of screws. I mounted my optic on plate first to see where screws ended up. New ones too sh This thing is like a gentle beast, the recoil is awesome but the power is there. Glockzilla is awesome! This one is a keeper. Ordered 3 days ago...just got it!! Perfectly priced and freshly packaged. Very impressive. Need this beast, because like many elk archers, bears continue to be on the attack. So instead of making them even angrier with a 9mm...time to go for the kill in a Another great purchase from BUDS....The model 40 is one of the most accurate pistols I have shot. The extra length of the barrel and slide add enough weight to calm the hot 10mm rounds I use, its almost like shooting a 9mm! Christopher S
December 9, 2017
Picked up this Glock Model 40, 10mm from the local Bud's FFL. The front sight (polymer) was chewed up on the corners, looks skewed, too, but I accepted it anyway because I'd bought a red dot reflex for it. Also, once I've figured out the best option I'll
Glock 40 Gen 4 Variations
Glock 40 Gen 4 Questions and Answers
Glock 40 Gen 4 Price History