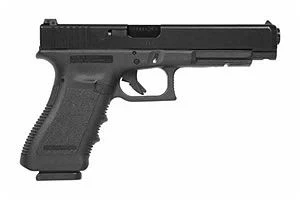 About Glock 35 Gen 3
With its extended barrel and extended line of sight, the GLOCK 35 allows accurate hit patterns even with rapid firing. This has resulted in widespread distribution of the GLOCK 35 among the practical shooting community.
Glock 35 Gen 3 Comparisons
Glock 35 Gen 3 Reviews Robert S
November 18, 2019
Robert S on
The usual Glock quality. Many hundreds of rounds through it and have had nearly no issues. I took it to a training class where we fired 400 - 500 rounds in one day and it performed beautifully. Jacob G
February 28, 2019
No problems whatsoever purchasing. Great job by Buds keeping me up to date on the shipping details. The gun is a quality piece and even sports an aftermarket extended slide stop, which I wasn't expecting, so that was a nice surprise. This was my first pur One of the best values for a full size .40 cal handgun on the market.
I must admit I am a Glock fan - from a value perspective it's great with regard to price quality durability and most importantly performance. I have run 500 rounds through it with no issues. Great gun but wish I had purchased the MOS version. Glock 30
January 10, 2017
Fantastic
Shoots great. Perfect size for my grip and best price I could find. Love my glock 30 (Posted on 1/10/2017) This Glock Rocks!
Purchased mine in store at the Wentzville location, great service. Low felt recoil, has great accuracy and is a great firearm for self defense. It is thicker than your average gun and for me it's better suited for OWB carry. If you're thinking about getti just bought a gen3 g35 and love it. using it in PPC and IPSC competition.
Glock 35 Gen 3 Variations
Glock 35 Gen 3 Questions and Answers
Asked by
geoz48
5 years ago
Lawrence, not in totality. Buy a 10mm Glock to start with and with a simple barrel change you can shoot 10mm, 9x25 Dillon, 40S&W and 357Sig out of one platform using the same magazine. Above you can convert to 357Sig from 40S&W but not 10mm.
Glock 35 Gen 3 Price History