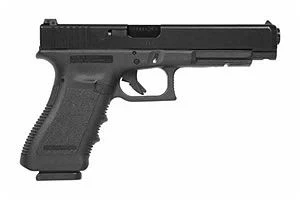 About Glock 35 Gen 3
With its extended barrel and extended line of sight, the GLOCK 35 allows accurate hit patterns even with rapid firing. This has resulted in widespread distribution of the GLOCK 35 among the practical shooting community.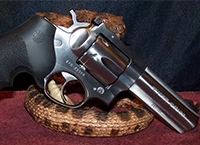 Detailed Review
The Glock 35 Gen 3 is a popular model in the line of Glock pistols. It was introduced in 1998 and has been a favorite of competitive shooters ever since. The Glock 35 is chambered in .40 S&W and has a capacity of 15+1 rounds.
The Glock 35 has a polymer frame, which makes it extremely lightweight and durable. The frame also features an ergonomic design, which makes it comfortable to hold and shoot. The grip has an aggressive texture that provides a secure and firm grip even with sweaty or wet hands.
The Glock 35 has a barrel length of 5.31 inches, which is longer than the standard Glock pistol barrel. This extra length provides greater accuracy and velocity. The slide is also longer than other Glock models, which also contributes to its accuracy.
The Glock 35 features fixed sights, which are easy to acquire and allow for quick target acquisition. The rear sight is adjustable for windage, which enables the shooter to fine-tune the pistol's accuracy. The pistol also has a Picatinny rail, which allows for the attachment of accessories such as lights and lasers.
The trigger on the Glock 35 is the same as all Glock pistols, with a consistent trigger pull and a short reset. The trigger pull is around 5.5 pounds, which is relatively light and allows for quick follow-up shots.
The Glock 35 gen 3 also features a loaded chamber indicator, so you can easily see if there is a round in the chamber. It also has a striker status indicator, which shows whether the pistol is cocked or not.
Cleaning the Glock 35 is straightforward, thanks to its simple design. The pistol breaks down into just four major components, making it easy to maintain and clean.
In conclusion, the Glock 35 Gen 3 is a high-quality pistol that is accurate, reliable, and easy to use. It is ideal for competitive shooting, home defense, or concealed carry. If you're looking for a versatile and dependable pistol, the Glock 35 is worth considering.
Glock 35 Gen 3 Comparisons
Glock 35 Gen 3 Reviews Robert S
November 18, 2019
Robert S on
The usual Glock quality. Many hundreds of rounds through it and have had nearly no issues. I took it to a training class where we fired 400 - 500 rounds in one day and it performed beautifully. Jacob G
February 28, 2019
No problems whatsoever purchasing. Great job by Buds keeping me up to date on the shipping details. The gun is a quality piece and even sports an aftermarket extended slide stop, which I wasn't expecting, so that was a nice surprise. This was my first pur One of the best values for a full size .40 cal handgun on the market.
I must admit I am a Glock fan - from a value perspective it's great with regard to price quality durability and most importantly performance. I have run 500 rounds through it with no issues. Great gun but wish I had purchased the MOS version. Glock 30
January 10, 2017
Fantastic
Shoots great. Perfect size for my grip and best price I could find. Love my glock 30 (Posted on 1/10/2017) This Glock Rocks!
Purchased mine in store at the Wentzville location, great service. Low felt recoil, has great accuracy and is a great firearm for self defense. It is thicker than your average gun and for me it's better suited for OWB carry. If you're thinking about getti just bought a gen3 g35 and love it. using it in PPC and IPSC competition.
Glock 35 Gen 3 Variations
Glock 35 Gen 3 Questions and Answers
Asked by
geoz48
6 years ago
Lawrence, not in totality. Buy a 10mm Glock to start with and with a simple barrel change you can shoot 10mm, 9x25 Dillon, 40S&W and 357Sig out of one platform using the same magazine. Above you can convert to 357Sig from 40S&W but not 10mm.
Glock 35 Gen 3 Price History