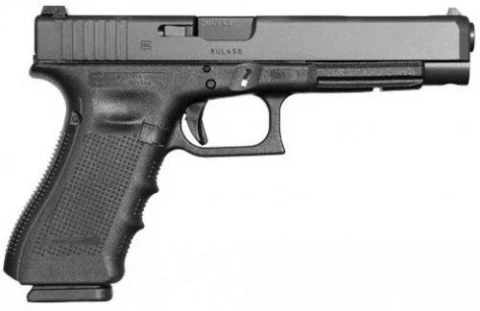 Glock 35 Gen 3 PI3530101
Brand New
About Glock 35 Gen 3 PI3530101
With its extended barrel and line of sight, the GLOCK 35, in .40 caliber, allows for accurate hit patterns, especially when rapidly firing at multiple targets. This has resulted in widespread adoption of the G35 among members of the practical shooting community. The G35 dominates the Limited Class of competitive shooting sports worldwide.
Glock 35 Gen 3 PI3530101 For Sale
Glock 35 Gen 3 PI3530101 Comparisons
Glock 35 Gen 3 PI3530101 Reviews Alex P on
Excellent carried on duty for ten years,never a hiccup at the range. As usually Bud's comes through again. I bought this Clock-35 40cal for my Christmas Present, and guess what? I got it just in time for Christmas. Excellent timing inspite of the Christmas rush... Yeah Bud's! Great pistol. Great gift to myself... Already r Howard P
September 5, 2007
Glock...when you need it to go bang....glock is the way to go....easily accessorized great control out of the 40S&W and overall pleasure to shoot........... let me first tell you.....this is my first glock, and i love it, alot more people should give the glock35 a try, they will not be dissappointed.......the gun feels great, and is very accurate......
Glock 35 Gen 3 PI3530101 Variations
Glock 35 Gen 3 PI3530101 Questions and Answers
Glock 35 Gen 3 PI3530101 Price History