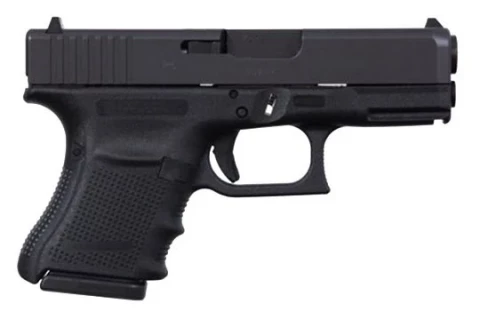 About Glock 29 Gen 3
Superior versatility is available with this high-performance, 10mm AUTO pistol. With reduced dimensions compared to the standard size GLOCK 20, the subcompact GLOCK 29 is also suitable for concealed carry. In addition to the use as a backup weapon for hunting, more and more security personnel on patrol appreciate the comfortable firing characteristics and the grip ergonomics of the G29 10 mm with its standard 10 round magazine.
Specifications
| | |
| --- | --- |
| Category | Semi-Auto Pistol |
| Action | Safe Action |
| Caliber | 10mm Auto |
| Capacity | 10+1 |
| Finish | Black |
| Sights | Fixed |
| Barrel Length | 3.77" |
| Gun Type | Semi-Automatic Pistol |
| Grip | Black |
Glock 29 Gen 3 Comparisons
Glock 29 Gen 3 Reviews Brandon J on
Fast service from Bud's as always, was pleasantly surprised that my Glock 29 came with 3 magazines total instead of the listed +1, so there's an unexpected welcome! Also included were four different interchangeable back-straps and speed loader; As for the Great pistol love the 10mm. Great customer service also. Thanks! This IS my carry gun presently. The POWER of 10mm and the quality of Glock. This carries a LOT of FIREPOWER in a manageable size and weight. I would not hesitate to get this gun as a carry....LOTS of "stopping" power. Recoils is not bad, bud then I'm a si Awesome pocket cannon. Easier to stay on target than I anticipated. It's a Glock! Leon R. D
October 20, 2017
This is a powerful little gun, and accurate too! It is a Glock so shouldn't that be expected? I haven't put any "hot" ammo thru it yet but I believe this bad boy will handle it well. RICHARD A D
March 18, 2014
If you are undecided with the Glock 29, don't be.. You get serious fire power in a small package.. Timothy S
August 11, 2013
After using this as my CC weapon for the last year, I'm planning to change to something lighter. As a gun, it's tough, accurate, and very powerful. As a concealed weapon, however, it's extremely heavy and not at all unlike carrying around a block of steel I don't know why the 10 mm round isn't more popular. It is an agressive zero compromise round. It is heavy and packs a punch. I got this gun for one reason, wild hogs. I live in Texas and was out in the sticks one day on my motorcycle and was charged by a James S
December 27, 2012
This pistol is the badest of bad, nothing comes close. Alot of people think the .45 is the best man stopper, well their wrong. If you want the best forget the rest. And buy from Buds. My first completed transaction with Bud's. Extremely pleased! As for the Glock 29? I've owned a 20 in the past. It appears the 29 is a perfect fit for my needs. Thanks! Great pistol. Came perfect in the box. 10 mm isn't as bad as it's made out to be, even in a sub compact pistol size. The Glock 29 takes the recoil up nicely and has a very smooth action, fast cycling, and comfortable grip. I shot this one and the SF model jeremy m
February 22, 2012
After owning many different Glocks, I figured it was time to step up to the top and go with their largest caliber handgun, the Glock 29, I have fired about 200 rounds through this firearm and haven't had any problems whatsoever. Shoots and performs like a
Glock 29 Gen 3 Variations
Glock 29 Gen 3 Questions and Answers
Asked by
geoz48
4 years ago
Ryan, this UPC code if precisely a Standard Glock Model 29 and not the SF version. This can be verified with Glock Customer Service at 770-432-1202
Glock 29 Gen 3 Price History