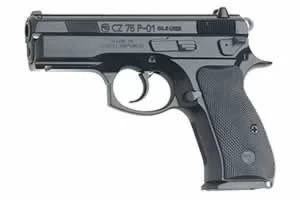 About CZ P-01
*Please note this excerpt from http://cz-usa.com/support/faq/ The P-01 9mm (designated the P-06 in .40 S&W) was designed for LE and Military duty, but its compact size and the reduced weight due to its forged alloy frame made it ideal for discrete carry as well. Equipped with a decocker, the P-01 provides convenience for those who prefer hammer-down carry. The P-01 was the first CZ model to benefit from updated manufacturing technology at CZs Uhersky Brod factory. The components of the P-01/P-06 are completely interchangable with every other P-01/P-06, with no individual fitting required. This required some very careful re-design so that the reliability and accuracy were not impaired. Since the time of its introduction (designed in 2001, NATO-approved in 2003) the production upgrades have been rolled out to most of the CZ 75 family and several new rifle models as well. The 1913 accessory rail easily accepts any of the industry-standard lights and lasers to assist low-light use. After 3 years of some of the most aggressive small arms testing ever, the CZ P-01 won the honor of replacing the CZ 75s previously used by the Czech National Police. Reliability:  The U.S. Army Mean Rounds Between Failure (MRBF) requirement is 495 rounds for 9mm pistols. During testing of the CZ P-01, the average number of stoppages was only 7 per 15,000 rounds fired. This is a .05% failure rate or an MRBF of 2142! For many years, the P-01 carried an NSN engraved on its frame, making it the first NATO-spec pistol ever available to the public. Recently, the factory decided to upgrade the slide stop spring which in turn means the current models may not carry the NSN.
CZ P-01 Reviews andrew h
November 30, 2018
andrew h on
Great gun, great service from Bud's. High polish CZ, heavier than the standard, built like a safe, very smooth shooting. My favorite handgun. I clean it and keep it in the safe. I just like to look at it. I should carry it more often. It's light, handles well, accurate and so soft shooting. Frederick H
September 9, 2015
As far as this CZ Pistol, it fits the hand like a glove. The trigger was a little gritty feeling at first, but after 50 rounds through the pistol the trigger smoothed right out. Shoots great and would tell anyone who is looking for a semi-compact pistol, Gene Pozniakoff
January 27, 2013
Another great gun from CZ. If you've never shot a CZ, take the time and shoot one of the best under rated guns in the world. I've had this fine pistol since July 4th of '07 and I'm totally satisfied with it. I had a few failures to eject in the first 200rds but has been smooth since (break in period). I've only ever shot hardball ammo threw it. The trigger smooths up with firin
CZ P-01 Questions and Answers