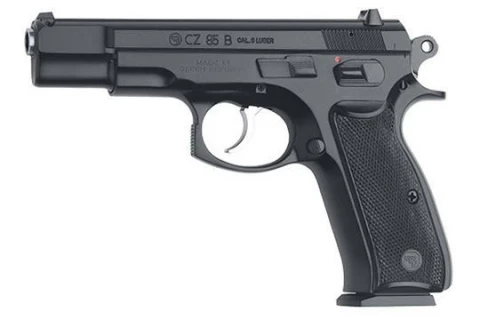 About CZ 85
CZ-USA is known for their high quality pistols and with the CZ-USA 85 Semi Auto Pistols you can be assured that your personal and protection needs are met.
The CZ 85 incorporates ambidextrous features into the basic CZ 75 platform including RH and LH safety and slide stop levers as well as a reversible mag release. The B model has a firing pin block safety that restricts any movement of the firing pin until the trigger is pulled. This mechanism prevents discharge in the event that a dropped pistol lands on its muzzle with enough force that the inertia of the firing pin overcomes the firing pin spring enough to touch off the primer.
CZ 85 Reviews calebhu on
Wonderful handgun. Excellent handgun, feels good in my hand, accurate, easy to assemble and disassemble, fired several hundred rounds through it to include +P+ hollow points with no problem. I like the ambidextrous features because I shoot handgun with my left hand also. I Ordered my CZ-85b two years ago and it still works great I highly recommend this gun to anyone, also buds delivered fast from what I can remember! Christopher R
May 16, 2016
Received my CZ85 B quickly (customer service and delivery are NEVER a problem when dealing with Buds!) and my initial impression is that it's an OK firearm, not great machine work and the finish is so-so, I certainly expected more from a handgun at this p scott m
February 16, 2015
Have wanted another CZ for a while. Used to own a P-01, sold it. Never knew how good I had it until I tried several other brands...as far as BUDS goes..i ordered on a Wednesday night, picked up Monday afternoon. Very happy about the time and price, and mo Larry N
December 17, 2014
I am very satisfied with this pistol. CZ quality has to be experienced to be believed. This is my second 85, I also own the Combat model. The ambidextrous safety and slide release are a big plus for me. Out-of-the-box accuracy is outstanding, no further m Received my CZ 85 in about a week from the order date. Took it to the range today. I have ten 9 mm handguns and I would rank this one in the top 3 or 4. Pleasant to shoot, good accuracy and easy maintenance, (cleaning). I would recommend the gun. Michael G
December 23, 2009
The CZ-85 is easy to conceal for a full sized auto and not too heavy. I like the option to carry the weapon in condition 1, cocked and locked. I like the all metal composition. The gun fits real well in my hand and is a natural pointer. I can reliably hit
CZ 85 Questions and Answers