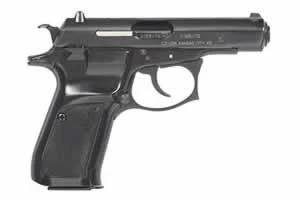 About CZ 83 HG2111-G
With over 60 years of experience in the design and manufacture of small arms, CZUB is today regarded as one of the small arms leader of the world. State-of-the-art technology, CNC machining centers and skilled personnel are the guarantees of the highest standards of quality. The common features for all CZ handguns include hammer forged barrels, tight tolerances and great ergonomics.
Specifications
| | |
| --- | --- |
| Brand | Cz-usa |
| Category | Semi-Auto Pistol |
| Weight | 1.8 oz |
| Action | Double Action |
| Caliber | .380 ACP |
| Capacity | 12+1 |
| Finish | High Gloss Blued Finish |
| Gun Type | Semi-Automatic Pistol |
| Sights | Fixed 3 Dot Sights |
CZ 83 HG2111-G Comparisons
CZ 83 HG2111-G Reviews Allan Svensson
August 16, 2013
Allan Svensson on
A compact handgun, easy to conceal and carry for personal protection. The 9mm gives sufficient stopping power and the mag, a good supply. Easy enough to carry a backup mag, also easy to exchange them. A well rounded weapon for the purpose. Some may consid Gene Pozniakoff
January 26, 2013
Simple, accurate and sturdy. Great design from CZ. I need a hand gun that I can rely on; that is accurate and easy to conceal. The CZ 83 9mm short defiantly fits this bill. It has a fantastic reputation in South Africa amongst enthusiasts. Mack Adams
December 3, 2010
I was so carried away with the CZ 83 that I bought two, one for dad and one for me. Both of them are very accurate for the .380 round and are very tight guns with slight recoil. CZ did an awesome job with these guns, but get one quick because the price ju
CZ 83 HG2111-G Variations
CZ 83 HG2111-G Questions and Answers
CZ 83 HG2111-G Price History