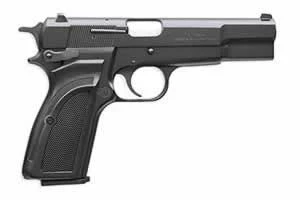 Browning Hi-Power Mark III
Brand New
About Browning Hi-Power Mark III
Receiver - Steel, Black epoxy finish • Barrel - 4 5/8", Black epoxy on slide, High profile fixed sights • Action - Locked breech, Single-action trigger, Ambidextrous thumb safety • Grips - Composite panels • Features - Extra magazine
Browning Hi-Power Mark III For Sale
Browning Hi-Power Mark III Comparisons
Browning Hi-Power Mark III Reviews Browning Hi Power Marak III - The Fighting Pistol
This is fighting pistol and it has a fighting pistol trigger. hickok45
January 11, 2019
Browning Hi-Power
This a beautiful gun has a great feel to it and it's and its a lot to fun to shoot. one of the negative is the magazine is disconnect and because of it it has a heavy trigger. JON WAYNE TAYLOR
January 11, 2019
Classic Gun Review: Belgian Browning Hi-Power Mk I
Nothing got to the 1″ mark, but multiple brands hit the 1 1/2″ to 2″ mark. But this one is a particularly good one. If you accept what the gun was designed for, a double stack military sidearm shooting 115gr ball rounds, the Hi-Power is exceptional. With Richard Mann
January 11, 2019
What's Wrong With the Hi Power?
For starters it has a magazine disconnect. This means the pistol will not fire if a magazine is not fully inserted. Some consider this a plausible safety feature, arguing if you are wrestling with a bad guy for control of your pistol, you can depress the Robert A. Sadowski
January 11, 2019
The Browning Hi-Power: Gun History
Reliability is built into the DNA of the Hi-Power, and I found the HP would do my bidding with no issues. It ran with no malfunctions. Magazine reloads needed to be modified since I had to strip out the empty magazine. Smoothness and speed would be gained gil depierro
December 2, 2017
I own this gun and love it.. has never jammed on me. have shot over 3,000 rounds... worth the money and fun to shoot.. I've owned 30 or 40 guns in my life. This gun is the most beautiful piece I have ever seen . What a work of art.
Browning Hi-Power Mark III Variations
Browning Hi-Power Mark III Questions and Answers
Browning Hi-Power Mark III Price History