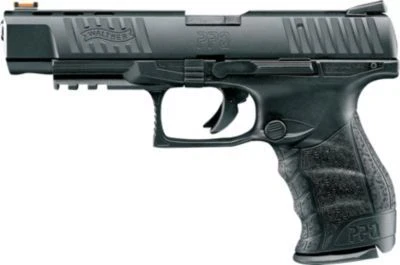 About Walther PPQ Q5
Adjustable rear target sights and fiber optic front sights. Mil-Std 1913 picatinny accessory mounting rail. Tenifer coating on slide, barrel and inside action parts. Matte finish. Integrated optics mounting system with included plates for Trijicon, Leupold and Docter red dot optics. Quick defense trigger, light 5.6 pound trigger pull, short .4 inch trigger travel with safety and .1 inch trigger reset. Ambidextrous magazine release button positioned for thumb operation. Reversible for right or left hand operation. Ergonomic Walther grip. Non-slip cross-directional grip surface for better control with interchangeable back straps. Ambidextrous slide stop. Slide locks back on empty magazine. Slide stop is extended for easy gloved operation. Front and rear slide serrations. Distinctive Walther styling. Ported slide for weight reduction and barrel cooling. Specifications: Model: PPQ Q5 Match # of Mags: 3 Overall Length: 7.1" Additional Info: Quick Defense Trigger Additional Info: Optic Mounting Platform
Walther PPQ Q5 Comparisons
Walther PPQ Q5 Reviews Shane N on
Awesome weapon right out of the box! Very impressed with it, running it with a Vortex Venom. The Q5 has lots of upgrades on the market as well. Definitely a great 3-gun/competition pistol. Quite accurate. Vincent M
November 5, 2019
Excellent purchase. Pistol arrived in perfect condition. Fast shipping. I will do business again! Robert L N
November 4, 2019
Makes me feel like a pro. Low recoil for 2nd shot recovery. Ergonomic grip feels great. Looks Badass!!rnNice groupings at 25 and 35ft. Can't wait to get out and shoot it again. great buy fast shipping love bud,s wil buy againnnnnnnnnnnnnnnnnnnnnn.......danny This is a fine shooting pistol . It is very very accurate and is one of the very best handguns I have ever owned. I'm trying to start shooting in the 3 gun matches and this is going to be my gun of choice. I would tell all of y'all to buy one you won't be Eric O
September 20, 2019
I have been waiting over a year to buy this gun. After finally making the plunge and buying this gun I must say I am completely surprised at how fantastic this gun truly is. It's very well balanced and is overall a great design. Highly recommend this fir I've only been to the range with the Q5 once, but I thoroughly enjoyed shooting this pistol. The fit and finish are top-notch, and the Walther ergonomics are on full display with the Q5. I found the Q5 grip to be extraordinarily comfortable, and it afford Although I have owned a Walther gun before,this is my first purchase online,& online with Bud"s. I was very pleased with the process,no hassle, smooth,easy transaction.Regarding my purchase of a Walther PPQ Q5 MATCH 9mm,I have had a lot of fun with it. I already owned a Walther PPQ M2 Navy so I was familiar with the platform. The Q5 Match version is a no brainer. If you have a sponsor buying your guns get the steel frame but everything about this pistol is great. I added a little weight on the rail and Had the gun 3 days after I purchased it from Buds.. speed of delivery and updates along the way as we expect from Buds. Now the gun. Smoooooth tigger, great looks, and finish. At the range was almost dead on from the first shot.... small adjustment and Love, love, love this gun! I researched the heck out of this gun before purchasing and am so glad I bought it. I saved $200 compared to my local gun store.rnThis is the second gun from Bud's. I always forget how slow their process is. I ordered it on July Took it to the range and fired 100 rounds without a single hick-up.... this is a nice accurate firearm!
Walther PPQ Q5 Variations
Walther PPQ Q5 Questions and Answers
Walther PPQ Q5 Price History