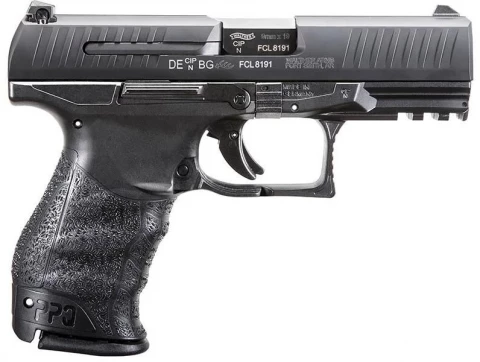 About Walther PPQ M1
The PPQ has returned by popular demand and has remained a classic. The PPQ Classic sports a truly ambidextrous magazine release. The trigger is the best of any striker-fired handgun with a safety lever and a short reset. Loved by many, the PPQ Classic is one of the best self-defense handguns available today. Specifications: Weight: 21.6 oz. # of Mags: 2 Overall Length: 7.1" Additional Info: 100% Pre-Cocked Striker Additional Info: Cross-Direction Textured Grip Additional Info: Front & Rear Slide Serrations
Specifications
| | |
| --- | --- |
| Brand | Walther Arms |
| Category | Handguns |
| Action | Striker Fire Action |
| Caliber | 9x19mm Parabellum |
| Capacity | 15+1 |
| Finish | Black |
| Sights | 3 Dot |
| Length | 7.1" |
| Gun Type | Semi-Automatic Pistol |
| Barrel Length | 4" |
Walther PPQ M1 Comparisons
Walther PPQ M1 Reviews Terry M on
I ordered my first Walther PPQ 9mm from Buds. I picked the PPQ up tuesday and shot a 100 rds at their range. The PPQ is a great auto and shot all 100 rds without a problem. Once again, Buds had the lowest price, the sales & service depts. were great and it's great it came on time and was in excellent shape i'm very happy with s buds thank you Christopher D
January 6, 2019
Been loving & carrying the original PPQ since it's initial US launch under Smith & Wesson years ago. Have appx 7000rds run through it so far and could not be happier. With that said, I was very pleased Walther Arms decided to make it in a 5in version with Harry W
November 24, 2018
Excellent firearm. Feels good and shoots well. Jared C
November 17, 2018
Smoooooooth trigger. Have to get used to the mag release being on the trigger guard, but its nice. Easy teardown, smooth fire. Overall nice weapon. I especially like the textured grip. For someone who has sweaty hands but doesn't like to wear gloves, this Baron T
September 21, 2018
It fits like a glove in my hands. I have it for just over 2 yrs now, never malfunction. Works like a charm. Really love M1 mag release. the best part of this gun is the trigger pull and ergonomics the mag release is awesome and is fun to play with shoots like better than a cz p10c or a glock if you want a 9mm this is the one to own forget that button mag release the paddle will grow on yo Best striker fired pistol ever! The ergonomics are excellent and the reset is nothing SHORT of amazing. Accurate and reliable. Walther excellence! This pistol has one of the best triggers of any striker fire pistol in its class. Which is a good class to be in. I do have larger hands and had to make an effort not to ride the slide stop lever while shooting. I often found the slide would not lock back Nice shooting. Crisp trigger. High quality firearm. Sold it wished I'd kept it. Jimmy G
December 23, 2017
The Best pistol EVER!!!!!!!!!!!!! James A
November 10, 2017
Always have been and will own Glock. Have to say in terms of ergonomics of grip, accuracy,and vastly superior trigger, I have been won over by the superb Walter PPQ. Still love Glocks.
Walther PPQ M1 Variations
Walther PPQ M1 Questions and Answers
Walther PPQ M1 Price History