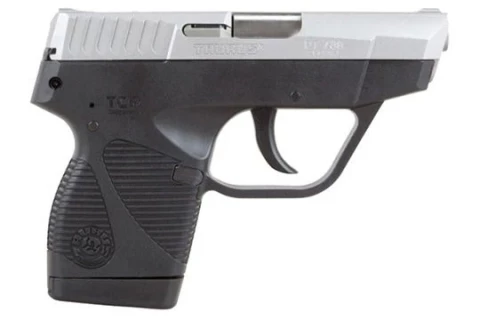 Featured Deal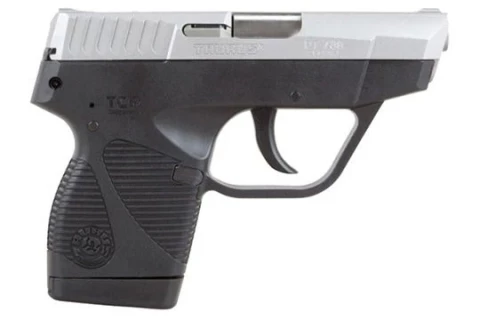 Taurus TCP M738 1-738039
Brand New
Taurus TCP M738 1-738039 for Sale
Product Description
Make way for the lightest Taurus ever created! The 10.2-ounce 738 TCP is not only the lightest semi-auto in the Taurus line; it's lighter than any of our small frame revolvers too! The 738 TCP offers 6+1 shots of .380 ACP, a … read more durable polymer frame and low-profile fixed sights. You have to feel it to believe it!
Specifications
| | |
| --- | --- |
| Category | Handguns |
| Action | Double Action Only |
| Caliber | .380 ACP |
| Capacity | 6+1 |
| Finish | Duo-Tone |
| Sights | Fixed |
| Barrel Length | 2.84" |
Taurus TCP M738 1-738039 Listings
Taurus TCP M738 1-738039 Comparisons
Taurus TCP M738 1-738039 Reviews Very happy with the TCP...shot 50 rounds with no FTF right out of the box...After cleaning shot another 50 rounds again perfect results...trigger is smooth and long. Best 380 i have ever owned..i started carrying today....so easy to carry in the pocket... Richard W on
Fast shipping. This gun will shoot FMJ ammo all day long but I had some FTF with HP ammo. It was a good price on the pistol. I am sastified with the purchased. Sold. had trouble feeding rounds. Probably would have worked OK if I'd shot it more but preferred the Ruger Don I ordered this product for my wife but I'll be honest with you it is has extreme extremely tolerant and it is very hard to release the slide mechanism with your son that almost takes two thumbs if not you have to pull back the slide little bit but I'm hop steamloco76
July 19, 2016
My wife and I purchased a pair of 738 TPC pistols to use for pocket carry. My pistol needed about 300 break in rounds before it would feed reliably. My wife's gun would not feed a second round out of all the magazines we had between the two pistols. We se I bought this gun to carry in the warmer months. I have ran cheep ammo to the higher end with no issues at all. I usually don't like hammer fired pistols but the trigger is really smooth. It's not as snappy as most 380s. One feature I really like is the s Such a well built pocket gun, great price from Sportsman's Guide, and fast shipping. I took this to the range a few times and it has constant feed jams. After googling the problem and trying some "fixes" it still is not reliable. I am having problems with my tcp not cycling spent brass to new round. You tube has guys filing down pins and prying on the mags with pliers, but when I buy a new product, I expect it to work. As some of the guys on you tube have stated, the weapon leaves The Taurus TCP is a great value! I love my Glock 19 but I wanted something smaller for warm weather CC. I spent some time researching the 380s on the market before making my decision. The Glock 42 and the Kahr are quality handguns and were in the finals b Carries well in my jeans back pocket and never detected. Great to shoot and strong enough for protection. Only draw back for me is my big hands and the small grip. Can only get 2 fingers on grips with trigger finger beside trigger housing. Pinky wont touc This has been my every day carry gun for 4 plus years. It is easily concealable with any kind of attire, and packs plenty of punch with the proper ammo. Very snag free for pocket carry with a Desantis superfly holster. (FYI. I own several more expensive 3
Taurus TCP M738 1-738039 Variations
Taurus TCP M738 1-738039 Questions and Answers
Asked by
geoz48
4 years ago
It comes with 1 mag see ***** UPC: 725327610670 Description: TAU 738TCP 380 DAO 6RD B 1 MAG Brand: Taurus Model: 738 FS TCP Type: Pistol: Semi-Auto Caliber: 380 Finish: Blue Action: Double Action Only Stock: Black Polymer Frame Sight: Low Profile Fixed Ba
Taurus TCP M738 1-738039 Price History