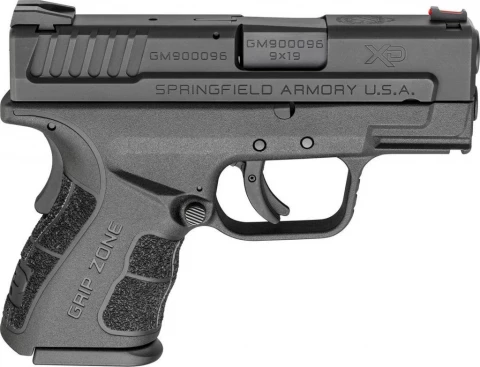 Springfield Armory XD-S
Brand New
About Springfield Armory XD-S
Combining single-stack slimness with big bore power, the XD-S Mod.2® OSP™ .45 ACP is now optics ready. It comes with a factory milled slide for low-profile, direct mounting of compact optics and comes with an Crimson Trace micro red dot. The powerful EDC pistol features a 3.3" hammer forged barrel and a passive grip safety for confident carry. Shipping with both 5 and 6 round magazines, the XD-S Mod.2 OSP .45 ACP offers a new take on this trusted platform.
Springfield Armory XD-S For Sale
Specifications
| | |
| --- | --- |
| Brand | Springfield Armory |
| Category | Handguns |
| Caliber | .45 ACP |
| Capacity | 5 1/6 1 (Grip Extension) |
| Finish | Black Melonite |
| Gun Type | Pistol |
| Sights | Fiber Optic Front |
| Barrel Length | 3.3" |
Springfield Armory XD-S Listings
Springfield Armory XD-S Comparisons
Springfield Armory XD-S Reviews Gun is great. Love how it shoots. Only negative is the case, which one of the plastic hinges broke within the first few time opening it. Gary B on
I was happy to learn the XDS9 is just as accurate as what I saw in the You Tube videos.Love the trigger. It's the perfect concealed carry gun. I bought a carry clip from clipdraw.com instead of a holster and it is the most comfortable carry gun I've ever had. In extremely happy with it and it's not that expensive either Love my XDs
What a great gun at a great price. When I told my FFL it was coming and the price I paid he logged on and tried to get one himself because he said it was lower than his cost but they sold out. My 6th XD pistol. Shoots great and reliable. Love it !
Wonderful pistol ! Amazing to have a large caliber .45ACP in such a compact size yet fires very accurate and handles recoil quite well ! Trigger feel is amazing ! This is my first firearm from Springfield and I love it !Perfect for CCW or in the automobil Nice light weight compact weapon love it from day one. I would definitely recommend it to anyone interested in a concealment weapon. Thomas p
October 29, 2018
Had it a couple weeks now, sent a little more than 300 rounds down the tube. Not one failure of any sort. Also very comfortable to shoot, my buddy has a comparable s&w and we both prefer the Springfield. Little bit wider but more comfortable and just as e charles c
October 25, 2018
Awesome feeling in the hand, I own the older version and this one is much better. Rodger D
October 23, 2018
First off I owned an XDS in.45. I couldn't get comfortable shooting it. I always felt i was about to lose control, I sold it. I just picked up an XDS in 9mm and I love it. As soon as it is financially feasible I will start the modification process. I'll Stanton S
September 15, 2018
I am very impressed with the Springfield XD-S! From the minute I opened the excellent plastic case that the gun came in, I sensed "quality". I was not disappointed when I inspected the gun and the magazines. Everything about it was pristine. If you are li Received in perfect condition (as usual from Bud's) and I took it to the range right away. It's thin, fits my hand well, and shoots right to point of aim at 10 yards. Highly recommend for CCW. If you care about looks this is for you. As polymer pistols go this one looks really cool. It runs perfectly and has great Springfield sights out of the box. Look at one in person before ordering as they are heavier than some others in the class. Great gu
Springfield Armory XD-S Variations
Springfield Armory XD-S Questions and Answers
Springfield Armory XD-S Price History