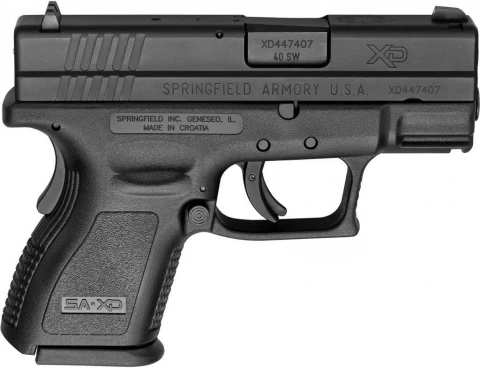 Springfield Armory XD
Brand New
About Springfield Armory XD
Product Description Springfield, XD9, Striker Fired, Sub Compact, 9MM, 3" Barrel, Polymer Frame, Black Finish, Fixed Sights, 3 Magazines, 2-16Rd & 1-13Rd
Springfield Armory XD For Sale
Springfield Armory XD Listings
Detailed Review
Springfield Armory XD is a series of semi-automatic pistols that are designed and manufactured by the Springfield Armory, Inc. The XD stands for Xtreme Duty, and these pistols are known for their reliability, durability, and accuracy. The Springfield Armory XD comes in various models, sizes, and calibers. The most popular ones are the XD, XD(M), and XD-S. The XD and XD(M) models come in 9mm, .40 S&W, and .45 ACP calibers, while the XD-S model comes in 9mm, .40 S&W, and .45 ACP but with a smaller frame size. The XD models have a polymer frame, while the XD(M) models have an upgraded polymer frame with interchangeable backstraps to fit different hand sizes. One of the key features of the Springfield Armory XD is its grip safety. The grip safety ensures that the pistol will not fire unless the shooter has a firm grip on the gun. This feature makes it a safe choice for novices and experienced shooters alike. Another feature of the Springfield Armory XD is its striker-fired mechanism. The striker-fired mechanism provides a consistent trigger pull that is smooth and easy to control. Moreover, the slide serrations on the front and rear make it easy to manipulate and control the gun during loading and unloading. The Springfield Armory XD also has other features such as a loaded chamber indicator, ambidextrous magazine release, and an accessory rail that can accommodate a variety of lights and lasers. In terms of accuracy, the Springfield Armory XD performs exceptionally well. The three-dot sights are easy to acquire and provide a clear sight picture. Additionally, the longer barrel and full-length guide rod contribute to the gun's accuracy. Overall, the Springfield Armory XD is a reliable, durable, and accurate pistol that is suitable for self-defense, concealed carry, and target shooting. Its numerous features make it a versatile pistol that can satisfy the needs of different shooters.
Note: No heading tags were used in this content.
Springfield Armory XD Comparisons
Springfield Armory XD Reviews CHRISTOPHER B
December 5, 2018
Another great gun from Springfield.
This may end up being my EDC if I can find a good holster. Even my wife liked shooting it. Very good should have got a few of them
Very good gun couldn't beat the price stephen m h
December 2, 2018
great
shoots well and conceals well used Springfield add gear web site on line and got my stuff in less than two weeksthanks Benjamin B
December 1, 2018
Palmetto always has the best prices! Very nice gun. Good fit to my hand. Extended magazines are a plus. HEAVY METAL
High quality, great shooter. Many nice features..but..too heavy for me as a CCW. Should have done my homework. This "subcompact" is quite large. However, it is well engineered and reliable. Very Happy
Second gun I have bought from PSA and it's pain free deals. Great price and great service! Kristen M
November 30, 2018
Amazing
This is the first hand gun that I have purchased for myself. I wanted something of this size but didn't want to pay an arm and a leg for it as it is my practice range gun. I was told to look on this site for a deal. I came across this gun at a great d james l
November 27, 2018
aok
they sell themselves i now own two Jerry H
November 17, 2018
Very fast delivery!
I received the Springfield XD 9 in 4 days from the order date. This sub-compact model is very easy to conceal for all you CCP holders. I haven't shot mine yet, but have shot the exact model. It's a accurate shooting gun with a 16-round capacity. T Shipping was FAST and the gun was everything I expected from Springfield. Shot 150 rds today and they all fed perfectly.
Springfield Armory XD Variations
Springfield Armory XD Questions and Answers
Asked by
geoz48
5 years ago
Martin, this pistol comes in a hard plastic case, with owners manual, warranty registration card (2) magazines " 1) 13 rd. & (1) 16 rd.w/extension", cleaning bore brush, orange plastic chamber block and cable lock. Unboxing video : youtube.com/watch?v=D6Q
Asked by
geoz48
6 years ago
Gun lock, 1 compact magazine and, 1 extended magazine.
Springfield Armory XD Price History