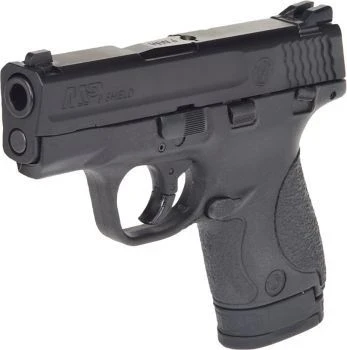 Smith & Wesson M&P 9 Shield
Brand New
About Smith & Wesson M&P 9 Shield
 Smith & Wesson put the power and features of their full-sized M&P line into a slim, lightweight striker-fired pistol that you may just find ideal for everyday carry, the Shield. This is an "easy to conceal" pistol that offers professional grade features, simple operation, and proven, reliable performance. Weighing in at only a bit over 20 ounces (empty), and not quite one inch wide, the Shield is the first-choice for over one million savvy gun owners. Each Shield 9 comes standard with two magazines; one 7-round flush-mount, and an extended 8-round. The frame is matte-black polymer, and the slide is Armornite-coated stainless steel.  This particular model comes with a manual thumb safety. Legendary Smith & Wesson quality, at a price point often associated with "budget" guns, the Shield is the personal defense option you've been looking for. *Also available in 380 ACP, 40 SW, and 45 ACP, there's a Shield for every need, and every shooter. Specifications: Weight: 19 oz. # of Mags: 2 Overall Length: 6.1"
Smith & Wesson M&P 9 Shield For Sale
Smith & Wesson M&P 9 Shield Listings
Smith & Wesson M&P 9 Shield Comparisons
Smith & Wesson M&P 9 Shield Reviews anthony wright
November 7, 2019
excellent firearm easy to carry concealed one of the highest quality firearm you can own I highly recommend it 1776 or Bust
January 4, 2019
S&W SHIELD 9MM: ANOTHER GREAT OPTION FOR SUMMER CARRY
Smith & Wesson's popular M&P Shield Semi-Auto Pistol operates with a striker-fired action, eliminating any external hammer to catch on clothing when this handgun is carried concealed. The thin 1" profile aids with concealment. The operation is based on a M&P Shield
The M&P Shield M2.0 - is a single-stack subcompact poly-striker pistol. It's pretty bare-bones, but the factory gives a good number of options. Can choose models with or without a manual safety. And can upgrade the sights, there are Performance Center mod Lucky Gunner Ammo
January 4, 2019
The Smith & Wesson M&P Shield Range Session
The Smith & Wesson M&P Shield is a slim, concealable, lightweight, striker-fired polymer pistol. Available in 9mm and .40 S&W, the new M&P SHIELD features a slim design combined with the proven and trusted features found in the M&P Pistol Series. From th Smith & Wesson M&P Shield 9mm Review
The Smith & Wesson M&P Shield chambered in 9 millimeter the shield is a no muss no fuss striker-fired subcompact featuring a barrel length of 3.1 inches it boasts an overall length of 6.1 inches the stainless steel barrel in finished with armored knight a Smith & Wesson M&P Shield 9mm Review
The Smith & Wesson M&P Shield 9mm Pistol features a Melonite barrel and steel, white dot, dovetailed sights. Designed to be less than 1" thin, this semiautomatic double-action pistol has polymer grips and is striker fired with a 9-round capacity. Thumb an Nathan T
December 15, 2018
Stiff RSA
I bought this model last year (2017) when S&W offered rebate. It was impossible to rack. I have 9mm everything from low end (ASTRA, TARUS) to relatively high end (COLT, GLOCK, SIG SAUER). Nothing comes anywhere close to how difficult this is to rack. Stephanie R
December 13, 2018
Perfect EDC for small frame folks. I love it!
I've had my Shield 9mm since 11-17, have put 1000's of rounds through it, and it has yet to have a single malfunction. Don't be put off by the fact that this is not the Shield 2.0. It is accurate, and eats 115 grain, 124 grain, and 147 grain i Great Handgun...except
Really like this gun. It's the perfect size and conceals easily. It has never failed to feed, fire, or flip. And I've used several brands of ammo. The only gripe is the takedown procedure. But it's still a 5 star weapon. Johnny V
November 2, 2018
S&W shield
Excellent every day carry weapon. Good quality small perfect for concealed carry
Smith & Wesson M&P 9 Shield Variations
Smith & Wesson M&P 9 Shield Questions and Answers
Asked by
Ronald S Richmond
2 years ago
Do you ship to a FFL in NJ?
Asked by
Ronald S Richmond
2 years ago
Do you ship to a FFL in NJ
Smith & Wesson M&P 9 Shield Price History