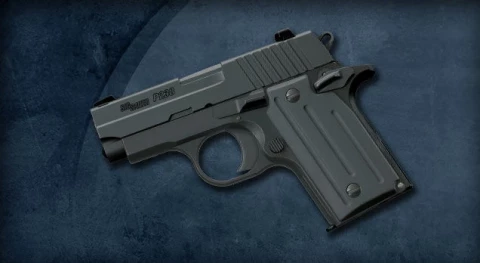 SIG Sauer P238 Extreme
Brand New
About SIG Sauer P238 Extreme
THE P238 EXTREME, Its just a fraction of the size of our full-size pistols. A smart looking, small handgun built with the same accuracy and reliability as large frame SIG SAUER pistols. With an overall length of just 5.5 inches a height of 4.46 inches, and weighing just 15.2 ounces, the SIG SAUER P238 is the ultimate firepower in an all metal frame concealed pistol. The P238 is built on an alloy beavertail style frame, Nitron finished slide and Hogue Extreme Series G-10 grips for comfort and a secure hold during rapid-fire usage. The X-Grip combines a 7 round magazine tube with the ergonomically designed magazine adapter, providing additional control and increased capacity.   Trigger Pull SA 7.5-8.5 lbs   Sights SIGLITE Night Sights   Grips Hogue G-10 grips,   Frame Finish Black Hard Anodized   Slide Finish Nitron   Accessory Rail No
SIG Sauer P238 Extreme For Sale
Detailed Review
The SIG Sauer P238 Extreme is a compact, single-action pistol that is designed for concealed carry. It is chambered in .380 ACP, making it ideal for personal defense and everyday carry. The P238 Extreme has a 2.7-inch barrel and an overall length of 5.5 inches, making it highly concealable.
The P238 Extreme has a black hard coat anodized alloy frame and a stainless steel slide, which gives it durability and resistance to wear and tear. The pistol has Hogue G-10 grips with a black and gray finish, which provide a secure hold and a comfortable grip. The front strap of the grip has a checkered design, which enhances control and accuracy.
The P238 Extreme has a fixed front sight and a rear sight that is adjustable for windage. The pistol also has a safety lever, which is located on the left side of the frame. The safety lever is easy to operate and provides an additional layer of safety when carrying the loaded pistol. The pistol also features a single-action trigger, which provides a crisp and clean break and a short reset.
The P238 Extreme has a magazine capacity of six rounds, which is standard for .380 ACP pistols. The pistol comes with one six-round magazine, but additional magazines can be purchased separately. The P238 Extreme also comes with a lockable hard case, which makes it easy to transport and store the pistol in a safe and secure manner.
The P238 Extreme is known for its accuracy and reliability. The pistol has been tested and proven to be highly reliable and accurate, even in adverse conditions. This makes it an ideal choice for those who want a reliable and accurate firearm for personal defense and everyday carry.
The P238 Extreme is also highly customizable. The pistol comes with a Picatinny rail, which allows for the attachment of accessories such as lights and lasers. The pistol can also be customized with a variety of aftermarket parts, such as grips, sights, and triggers. This makes it easy to personalize the pistol to meet the specific needs and preferences of the individual shooter.
In conclusion, the SIG Sauer P238 Extreme is a highly reliable, accurate, and customizable compact pistol that is ideal for personal defense and everyday carry. Its small size and lightweight construction make it easy to conceal and carry, while its durable construction and high-quality components ensure that it will perform when needed. If you are in the market for a concealed carry pistol, the P238 Extreme is definitely worth considering.
SIG Sauer P238 Extreme Comparisons
SIG Sauer P238 Extreme Reviews Only problem I have with this is a SAO for a pocket gun. The small safety is difficult for me to disengage vs easy on a larger 1911. This is my 1st Sig purchase, but won't be my last! I love this gun. Worked perfectly out of the box, and is great to shoot! Great execution by Bud's. Jareb A
February 14, 2018
Great pistol. Purchased for wife for cc. It's not snappy because of the steel slide and frame. It's a tiny 1911, so you have to like single action only pistols. Pistol is very accurate. The sights glow in the dark and are very bright. Randall S
December 29, 2017
This is my second Sig 238. This is a good gun for conceal carry in pants pocket. The hard grips allows the gun to slip in & out of holster/pocket easily. Very well made and accurate small pistol. Charles R
November 22, 2017
Great little pocket pistol, solidly built and has an actual safety. I bought it as a standard CCW to replace my 226 for normal grocery runs and the like but the recoil with the .380 is so manageable that it's also a fun range gun! Chaunce C
October 11, 2017
Got the opportunity to shoot one before buying and I was extremely impressed. Checked a lot boxes for me. I wanted a 1911, a Sig, and something practical to carry and this little .380 fit the bill. No problems after 100 rounds. A little learning curve sho April 6, 2017 After firing three magazines, the Sig Sauer P238 slide would not remain open after the last shot fired. After cleaning and several more attempts with the same results. I returned the gun to the factory for repair. I have not received any inf Excellent price/ordering process/mailing out in a timely manner from Buds. Sig P238 is just a top notch pocket pistol. So far, I have fired it around 150 times without any malfunctions. I have used hollow points, and FMJ ball ammunition. Also, some with s Awesome service with Buds and super fast shipping. Cant wait to get out on the range! Great gun, as expected. I can't say enough on how easy it is to order through Bud's. Will order again! Matt on
I love this gun. It is a great gun to throw in a pocket and carry wherever. I highly recommend it. Great recoil since it is a steel frame.
SIG Sauer P238 Extreme Variations
SIG Sauer P238 Extreme Questions and Answers
Asked by
geoz48
5 years ago
Yes it does Thomas. This model P238 is from the latest upgraded batch from Sig Sauer.
Asked by
geoz48
6 years ago
I would call the manufacturer
Asked by
geoz48
6 years ago
Kevin, you can purchase another Magazine here though - budsgunshop.com/catalog/product_info.php/products_id/58589
SIG Sauer P238 Extreme Price History