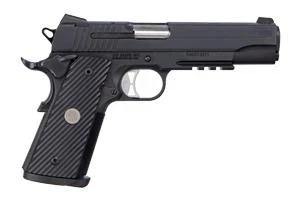 About SIG Sauer 1911
Sig Sauer 1911R10TACOPS 1911 Single 10mm 5\" 8+1 Black Ergo XT Grip Black Nitron Stainless Steel The legendary 1911 design has been brought into the 21st century with the refinement today\'s shooters demand. The Sig Sauer 1911 proves that close tolerances equal complete reliability and need not be incompatible in an off-the-shelf pistol. Sig Sauer has introduced clean, distinct lines that American shooters have embraced, while retaining the crisp trigger pull, classic ergonomics, and exceptional accuracy they expect. This models features a SAO trigger, low profile night sights, integral accessory rail, ambidextrous grip safety, Magwell, and Ergo XT grips. SPECIFICATIONS: Mfg Item Num: 1911R10TACOP Category: PISTOLS Type :Pistol Action :Single Caliber :10mm Barrel Length :5\" Capacity :8+1 Grips :Black Ergo XT Sight Configuration :Siglite Front, Contrast Rear Weight :41.6 oz Frame Finish :Black Nitron Frame Material :Stainless Steel Slide Description :Black Nitron Stainless Steel
SIG Sauer 1911 Comparisons
SIG Sauer 1911 Reviews Mr Peter Miller
September 21, 2019
Mr Peter Miller on
Excellent grips and front chequering. Smooth trigger action, accurate and easy to clean. Front sight is good rear sight seems susceptible to being disturbe. I own the .22,9mm & .45acp all in 1911 full size. The .45 is a really great gun Robert J
December 3, 2018
As always Buds service and sale experience was flawless and excellent. This SIG pistol came in perfect, brand new condition and was even nicer looking and feeling than I expected. I have not fired it as yet....but I have several other SIG pistols, 2 of th Jonathan B
November 2, 2018
This is my first 1911, and I absolutely love this gun. Laser beam accurate right out of the box, controls are tight but not so tight that they require wearing in, trigger is short and crisp, just how I like it. This is my 5th Sig product and it's just as Have wanted a 10mm for some time now and decided on this Sig Sauer after quite a bit of research. I had also considered two different variants of the Colt Delta Elite, and a Ruger 1911 in 10mm. I've only had the gun for a few days but have already put a c Joseph I
February 23, 2018
Accurate and tight as you would expect from Sig Sauer. Ran 500 rounds through it without any issues. Functionality was perfect As always, Bud's is great. This review is for the Sig C3 only. I've had it for approx. 2 months and I am VERY disappointed in this firearm. Four separate trips to the range and it will not group anywhere near the same, even off of a bench rest. The only c Great gun. Shoots like a dream and not bad to look at. Great handgun .this sig 1911 c3 has perfect carry gun all over it .its very light for a 1911 .slide to frame fit is nice and tight .shoots very nice ,recoil seems same as my TRP full size that weighs way more ....somehow .its a sexy gun .only downside is Timothy S
October 30, 2013
As Always Excellent Service From Bud's This is a great gun well worth every penny...Excellent CCW Great gun and terrific service. Gun was shipped quickly and in perfect.condition .ThNjs Buds is certainly the best when it comes to being a first time on-line buyer, like myself. The transaction was made very easy and worry free. I was able to view my pistol before purchase, obtain all applicable information that was important to me in purch This thing is flawless. Accurate, reliable, solid. Love it.
SIG Sauer 1911 Variations
SIG Sauer 1911 Questions and Answers
Asked by
geoz48
4 years ago
Barrel, guiderod, full power ammo
This comes with a Stainless barrel with one piece guide rod. You Can shoot+P without issue. Here's all the info. - sigsauer.com/store/1911-tacops-full-size.html
Asked by
geoz48
4 years ago
Joseph, this pistol includes (4) 8rd 10mm Magazines Sir.
SIG Sauer 1911 Price History