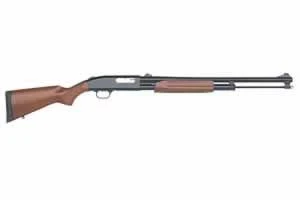 About Mossberg 500
After over 50 years and over 10 million and counting–and the only pump action to be declared MilSpec–the Mossberg 500 has proven to be one of the most versatile and reliable shotgun platforms available, offering a model to fit every application, and every user from our households, to law agencies, to military worldwide.
Specifications
| | |
| --- | --- |
| Brand | Mossberg & Sons |
| Category | Shotguns |
| Length | 43.5" Fully Rifled/45.5" Vent Rib |
| Action | Pump |
| Capacity | 4+1 |
| Finish | Blued |
| Barrel Length | 24"/26" |
Mossberg 500 Listings
Mossberg 500 Reviews I love the barrel selections available and easy disassembly for complete cleaning.... Very nice shotgun, has a good feel and shoots well. Comes with LPA trigger which is adjustable, has a metal trigger house and is really smooth compared to factory Mossberg trigger. Another plus is a free case with this package. The few things I disliked w Tomas Quiñones
August 20, 2017
Tomas Quiñones on
Really beautiful gun John Q. Public
June 11, 2016
I'm going to be buying one of these I've shot a bunch of clay pigeons with great results, thanks to the double bead site. The gun is very dependable, with no problems thanks to a long proven simple design. I shot copper HP sabots in very small groups (for me) at 50 yards with the iron sight Gorgeous 20 ga. Can't beat the price for a pump action combo with 3 choke tubes. Quick shipping and ver pleased with everything. billy w
November 21, 2012
received the mossberg 20ga. pump gun from bud's today and was very pleased with the quality of the shotgun and the prompt delivery from bud's guns! bud's always comes thru for me with out delays or problems! thanks bud's!....billy w. I bought the 500 last year as a cheap slug gun for deer hunting in Iowa. I wanted a gun that I could take trough the brush and not worry about scratches and for the price I am very happy with it. It is a little picky on the ammo, I had good luck with fede This gun is the best money can buy for us blue collar guys and gals. I use it for everthing from doves to deer and dont have to change barrels or chokes. My family has always shot the 500 and has served us all flawlessiy.
Mossberg 500 Questions and Answers
Mossberg 500 Price History