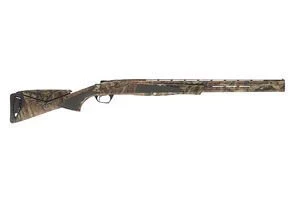 Browning Cynergy Mossy Oak Break-Up Infinity
Brand New
About Browning Cynergy Mossy Oak Break-Up Infinity
Mossy Oak Break-Up Infinity THE CYNERGY TAKES LOW-PROFILE TO ITS LOWEST LEVELS EVER. Without a doubt, the Browning Cynergy began as the most technologically advanced over and under shotgun available. It has been called "revolutionary." And when you shoot one it could very well transform your shooting abilities. TRULY INNOVATIVE. Even on the rack, a Browning Cynergy sets itself apart from other over and under shotguns. Open the breech and youll know why. The low-profile Cynergy is a new experience in over and under shotguns with performance, recoil control, speed and reliability that you must shoot to fully appreciate.
Browning Cynergy Mossy Oak Break-Up Infinity For Sale
Browning Cynergy Mossy Oak Break-Up Infinity Comparisons
Browning Cynergy Mossy Oak Break-Up Infinity Reviews Randy on
Initially I wondered if I could like an O/U which look for different but after shooting it I wondered no more. Quite simply it fits, not much more that you can ask of a shotgun. I have used it on the clay field as well as for hunting, you always get stran Dave Krenshaw
November 18, 2011
This gun is not for the trigger happy semi-auto guy. This is for the guy who can wield a precision O/U reach out and hit what others only brag that they've done it too!!! Beautiful gun in nice infinity camo -- was hard to find one in this pattern and paid a little more than I hoped buy glad I scooped up the one I did. I like the infinity over the duck blind, which tends to yellow over time in high use areas, and it looks n
Browning Cynergy Mossy Oak Break-Up Infinity Variations
Browning Cynergy Mossy Oak Break-Up Infinity Questions and Answers
Browning Cynergy Mossy Oak Break-Up Infinity Price History