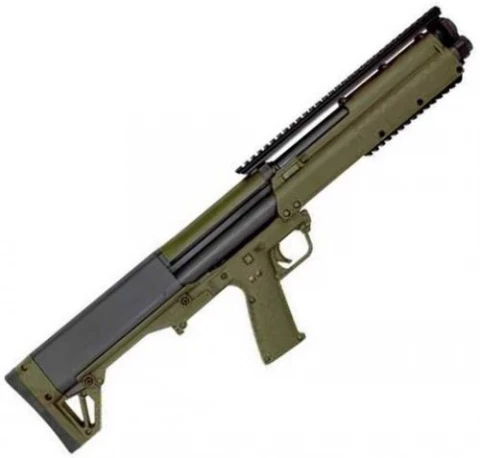 Kel-Tec KSG KSG-CK-GREEN
Brand New
About Kel-Tec KSG KSG-CK-GREEN
Internal dual tube magazines holds 6 rounds of 12 gauge 3 inch shells each for a total capacity of 6+6+1 (7 per tube if using 2-3/4 inch shells). Pump action feeds from either the left or right tube. Feed side is manually selected by a lever located behind the trigger guard. Lever can be positioned in the center detent in order to easily clear the chamber without feeding another round from either magazine. Cross bolt style safety. Pump release lever is located in front of the trigger guard. Includes an under Picatinny rail and top Picatinny sight rail. Sling loops are built in and a basic sling is included. Soft rubber butt pad. Weighs 6.9 pounds with a 26.1 inch overall length.
Kel-Tec KSG KSG-CK-GREEN For Sale
Kel-Tec KSG KSG-CK-GREEN Comparisons
Kel-Tec KSG KSG-CK-GREEN Reviews Brett N on
Absolutely love it. Functions flawlessly and the OD looks great. Another great buying experience with buds. I wrote a review for this but it apparently didn't go thru. We absolutely love this shotgun. After our practice we keep 1 cylinder full odd 3' magnum slugs and the other cylinder for 3" magnum 00 buckshot. The kick is a little more intense but for home de This is a sweet little shotgun been wanting one for years and buds had a great deal on them it feels and shoots awesome very fun to shoot and can't be beat for home and property defense I keep 00 buck in 1 tube and slugs in the other the slugs makes it li cool gun I like it but would not eject 100% of the time got better over time and a good cleaning This thing is crazy! Shorter than I thought. The ejection port is right above your arm so you have to hold your arm out a little or the shells hit you right in the forearm and could bounce back in the action. Pretty frickin' sweet though!!
Kel-Tec KSG KSG-CK-GREEN Variations
Kel-Tec KSG KSG-CK-GREEN Questions and Answers
Kel-Tec KSG KSG-CK-GREEN Price History