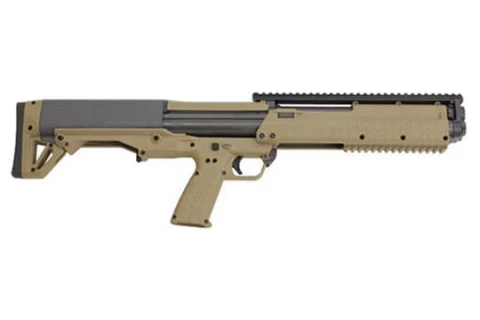 About Kel-Tec KSG
Internal dual tube magazines holds 6 rounds of 12 gauge 3 inch shells each for a total capacity of 6+6+1 (7 per tube if using 2-3/4 inch shells). Pump action feeds from either the left or right tube. Feed side is manually selected by a lever located behind the trigger guard. Lever can be positioned in the center detent in order to easily clear the chamber without feeding another round from either magazine. Cross bolt style safety. Pump release lever is located in front of the trigger guard. Includes an under Picatinny rail and top Picatinny sight rail. Sling loops are built in and a basic sling is included. Soft rubber butt pad. Weighs 6.9 pounds with a 26.1 inch overall length.
Specifications
| | |
| --- | --- |
| Category | Shotguns |
| Weight | 110.4 oz |
| Action | Pump Action |
| Caliber | 12 GA |
| Capacity | 12+1 |
| Finish | Tan |
| Gun Type | Shotgun |
| Sights | No Sights |
Kel-Tec KSG Listings
Kel-Tec KSG Reviews Jose P on
This KEL-TEC KSG was the best price around. The process of buying online is new to me. Bud's Guns made this a simple process. They ship the gun quickly and kept me in the loop the whole time. I will be buying my guns from them again. Bought the Kel-Tec KSG. After watching reviews on YouTube after I ordered it I was a little apprehensive about how I would like it. I have found no problems the gun functions perfectly. I would recommend the ksg-12 to anyone that is thinking about it. Ord The key tec ksg that I purchased was at a great price...the lowest of all other websites. The service here is great, i now tell people the deals and service is best at BUDs. Well this is my 10th transaction with Buds.They are hands down the BEST COMPANY OF SERVICE I HAVE EVER HAD THE PLEASURE OF ORDERING WITH !!! And this KSG shotgun is a amazing ,stout and high quality piece of shooting iron. Brad S
September 11, 2018
Excellent purchase, love my new keltec, fast two day shipping as well! Always happy with buds service This gun looks amazing, however I cannot shoot it because it will not cycle shells into the chamber and I cannot load it. I am hoping the manufacturer has a solution or can exchange my KSG for one that works... I have already put many upgrades on it so I The fun meter just got pegged! I can't say enough good things about it. Buy one to see for yourself. You won't regret it. I was shocked at how well built this thing is. Perfect tolerances and smooth action. I purchased the cerakote model and could not be happier. Thanks buds guns for the layaway program! Without it I would have never gotten my hands on one of these bad boys! To be honest, I was originally looking to buy the UTAS XTR-12 or the UTS 15. After never being able to find one, I decided on the Kel-Tec KSG and absolutely love it. I've shot several different brands of ammo through it and the only ones I had trouble wit Great lines great looking shotgun when are you getting more The product is great, I haven't had a chance to get out to shoot it. But I've had one issue so far, The Tube selector, it is Incredibly hard to move from side to side unless it is very loose 1/4 inch of wiggle room for it to be Forced to move from side to Michael G
August 12, 2017
I found the KSG to be of excellent quality with a tight crisp action. I didn't experience any ejections into my wrist as reported in some videos, rather more of a straight down and/or to the rear of the stock using a quick execution of the action. The sho
Kel-Tec KSG Questions and Answers
Kel-Tec KSG Price History