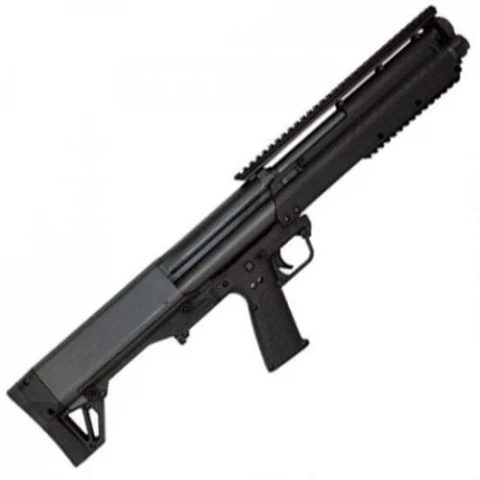 Kel-Tec KSG KSG
Brand New
About Kel-Tec KSG KSG
The KSG is Kel-Tec's first entry into the shotgun market.  The size, shape and design are similar to the currently available Kel-Tec RFB rifle, but the KSG ejects downward, instead of forward.  The KSG weighs 6.9lbs and is as compact as legally possible with a 26.1" overall length and an 18.5" cylinder bore barrel.  Even with this compact size, the internal dual tube magazines hold an impressive 12 rounds of 12 gage 2-3/4" rounds (6 per tube).  The simple and reliable pump action feeds from either the left or right tube.  The feed side is manually selected by a lever located behind the trigger guard.  The lever can be positioned in the center detent in order to easily clear the chamber without feeding another round from either magazine.  A cross bolt style safety blocks the sear, and the pump release lever is located in front of the trigger guard. The pump includes an under Picatinny rail for the mounting of a forward grip, or a light or laser.  The included top Picatinny sight rail will accept many types of optics or iron sights.  Forward and rear sling loops are built in, and a basic sling is included.  The soft rubber butt pad helps to tame recoil. Specifications: Weight: 6.9lbs Choke Tubes: Cylinder Bore Sights: None Additional Info: Basic Sling Included Additional Info: Under Picatinny Rail Additional Info: Top Picatinny Sight Rail
Kel-Tec KSG KSG Comparisons
Kel-Tec KSG KSG Reviews Glenn M on
I've been watching this shotgun for over 2 years and finally bought it this summer. It is lighter than I thought and with the addition of a butt recoil pad, cheek guard, and flip up iron sights, it is all that I hoped for in a shotgun. Cleaning is a bre Let me start by saying I have purchased about 40 guns from Buds over the past 5 years or so and if you or looking for good customer service and a quality product you are looking in the right place. My experience has been nothing but great. This shotgun is Fun shotgun, after disassembly cleaning and lube I shot 200 round eat everything. Is very aggressive and like to kick him. Transaction flawless. when I first received this gun I was very disappointed with it. It would not go through the full magazines without jamming over and over again. Once I had shot acouple of boxes through it, it started to work just amazingly. Like the gun. Amazing gun, received flawless at ffl dealer, even came with sling i wasnt expecting. Fun to shoot but would recommend getting an additional recoil pad. I received my shotgun pretty fast, thanks Buds! Shotgun was of course in great shape, my husband and I tested the shotgun out right away. Very beautiful and powerful shotgun! I highly recommend for home defense! The product is great, I haven't had a chance to get out to shoot it. But I've had one issue so far, The Tube selector, it is Incredibly hard to move from side to side unless it is very loose 1/4 inch of wiggle room for it to be Forced to move from side to Douglas B
January 23, 2018
Great gun. i love it, it shoots very well. and is very balanced and easy to handle. Bruce L
December 23, 2017
Kel Tec KSG is awesome. Shot it today (12/23/2017) for the first time. Put about 35 - 40 rounds through it and experienced no problems whatsoever. Shot No. 9 target loads, 00 buckshot and slugs (all 2 3/4"). Have recoil pad on it and recoil is like any ot John wick used this gun in the movie. Enough said. Darren D
November 22, 2017
Outstanding shotgun! The perfect home defense weapon. I know how to torture a weapon to find it's flaws and thus far I have failed to find one. I had a "first" generation and wasn't too fond of it due to certain issues, Kel Tec listened to customers and r Very pleased, great gun at a good price and excellent service.
Kel-Tec KSG KSG Variations
Kel-Tec KSG KSG Questions and Answers
Kel-Tec KSG KSG Price History