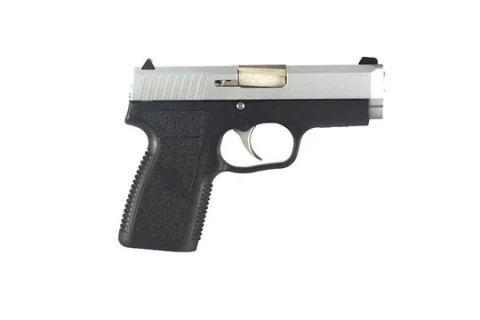 About Kahr CW40
The CW Series have conventional rifling instead of match grade polygonal rifling; the CW Series have a MIM (metal-injection-molded) slide stop lever instead of a machined slide stop lever; the CW Series cannot be retrofitted with night sights because the slide does not have a front dovetail cut; the CW Series slide have fewer machining operations; and the CW Series have simple engraving on the slide instead of rollmarking; and the CW Series are shipped with one magazine instead of two. Specifications: Weight: 16.8oz # of Mags: 1 Overall Length: 6.36"
Kahr CW40 Reviews great gun , parts are high quality , machine work is awesome . grip is just superb . you wont be disappointed Love the size and weight of this pistol. Perfect size for carry. I have put 120 rounds through it without any issues. I am a true believer in 40 as the best autoloader round for self defense. It may not be good for the less experienced shooter but this gu I purchased this firearm about a week ago after watching many YouTube videos. I took it to the range today and it ran flawless right out of the box. I ran 180 grain Blazer Brass and Midwest Ammunition. I had no FTF or FTE. I will say that it is a bit snap My first handgun
I bought a CW40 in Oct 2012 as my first CC.Admittedly I do not have much to compare it to it has been a great and reliable piece. Fantastic CCW pistol
I have had fantastic experiences with Kahr pistols and this model is no exception. The CW40 is a great lower cost option to the Kahr line and I have had ZERO issue with this pistol since owning it. The other commenters make this a great used pitol to own Donnie Smith
August 21, 2015
Same issues as Joe. I don't blame PSA
I had the exact same issues as Joe these pistols are JUNK!!! The 1 I received wouldn't cycle self defense ammo it to would not feed an the magazine would fall out. I called Kahr the guy I spoke to kept telling me how goo Kahr's quality control was Purchased the Kahr CW40 from Gun Broker. Cleaned it and took to range, fired 200 rounds with no problems. Shoots extremely well and is very accurate. To date I have over 700 rounds and not one issue. IMO this is a very reliable firearm.
Kahr CW40 Questions and Answers