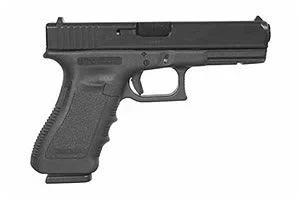 About Glock 37 Gen 3
For those who prefer large-caliber handguns, the GLOCK 37, in .45 G.A.P., represents a quantum leap forward in big-bore technology. This ideal, all-around pistol is a winner because it delivers power-packed performance in a standard framed handgun. The G37 is our answer to big bore muzzle flip and high velocity recoil.
Glock 37 Gen 3 Comparisons
Glock 37 Gen 3 Reviews mike c on
love my Glock37 . keep it on my night stand rnwith an od green hogue grip & an hl-p5s rntactical led hilight. Bought it in 2010 for 379.00rnout the door... Thx buds!!! T Greg C
December 9, 2018
I wish that I still owned this gun at the price I paid! Easy to order and in my hands quick. Thnx Bird's Jay Wayne T
November 22, 2015
As usual with Glock, very accurate. Ammo is a bit hard to find. Happy with my purchase. Excellent pistol. Great service by buds. Ammo is a bit scarce and $. I ordered my Glock Sunday, I went and picked it up Tuesday. I don't know about some people, but I like getting my order ASAP !!! Then I opened the box up and seen a great looking model 37 Glock. What else could a man ask for? Maybe two. Action is tight an This is the best deal that I've found on GB yet. My G37 is my go to.... Danny Excellent Firearm!!!! Eats any ammo I feed her. Thaddeus J
September 26, 2011
One of my favorite sidearms, communication was excellent and shipped 2 day UPS to my ffl. And i dont mind the hard to find ammo because this wont be a range gun anyway nice price for Glock new in box with usual accessories-shi-pp This was the smoothest transaction I ever experienced when transferring a gun. I received my Glock 37 in 10 days. The price and the service was great. You just got a new customer. Not really a big fan of the glock, but for the price I could not resist. I just got my glock 37 GAP a couple of days ago and the FFL dealer was surprised how much I got it for from Buds. They thought it was used and I told them it was brand new and they w Could not resist the price for a Glock. Ordered it, and Bud's shipped it within an hour. It was at my FFL in 3 days! the pistol was in excellent condition. I will post more when I have had time to break it in at the range. Thanks to Bud's for their impecc
Glock 37 Gen 3 Variations
Glock 37 Gen 3 Questions and Answers
Asked by
geoz48
4 years ago
Glock 37 gen 3 45acp 10 round
if you select the "Price Match" option, If Buds can't match the price they should still tell you their best price. Remember to take into account Buds free shipping in the overall price as well. If the price match button is not working for you, just contac
Asked by
geoz48
5 years ago
Hi Mathew, this comes with (2) 10rd Magazines.
Glock 37 Gen 3 Price History