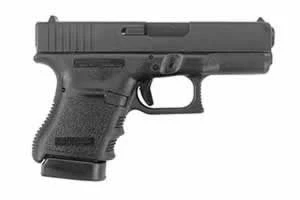 About Glock 36
This Glock 36 packs 6 rounds of 45 ACP stopping power in a package that fits the hands of most any user. The Slimline design has incorporated the use of a single-stack magazine and measures only 1.13 inches in width which makes controlling recoil very simple. It is easy-to-use, hard to see, and tough to face.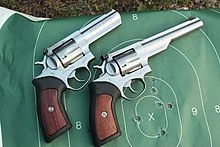 Detailed Review
The Glock 36 is a compact pistol designed for concealed carry. It was introduced in 2000 and has since become a popular choice among gun owners. This pistol is chambered in .45 ACP, making it a powerful option for personal defense. The magazine capacity is six rounds, which might seem low but is actually a benefit for concealed carry. The smaller magazine size allows for a slimmer profile that is easier to conceal. One unique feature of the Glock 36 is its single-stack magazine. This differs from many other Glock models which typically have double-stack magazines. However, the single-stack design allows for a narrower grip, making it easier to conceal. The slide is made of steel and features Glock's signature Tenifer coating for added durability. The polymer frame is lightweight and comfortable to hold. The grip angle is the same as most other Glock models, making it easy to transition between firearms. As with all Glock pistols, the Glock 36 has a safe-action trigger system that includes three safeties. This ensures that the gun will only fire when the trigger is deliberately pulled. Overall, the Glock 36 is a reliable and effective choice for concealed carry. Its slim profile and powerful .45 ACP chambering make it a popular choice among gun owners.
Glock 36 Reviews FORESTER157
August 8, 2017
A must have carry if looking for a single stack, shoots amazing and very smooth shooter. Ended up getting one with rail accessories compatible. I'm my opinion, this is one of the most underrated Glock models. As a .45 ACP enthusiast this is a great CC option. I equipped my G36 with a set of Glock night sights, 3.5lb trigger bar, aftermarket trigger, and a Pearce +0 grip extension. It has surprisi Steven S
January 29, 2017
I didn't like the feel in my hand! Sold it. The S&W Shield 45 is far superior in my opinion! Fredrick J R
October 13, 2016
Put this on a 90 day layaway without any problem and picked it up 2 weeks ago from my FFL. I've heard a lot of negative things about the G36 but wanted one for myself as a conceal carry pistol. Took it to the range today and fired 150 rounds of Federal .4 Perfect packing pistol ! It may only hold 6 rounds but it's a 45 ,very slim perfect for inside the waist carry,again thanks to buds for fast shipping and great customer service Larry J. Ogden
January 23, 2013
I am 68 and artheritic. But I watched people operate all glocks on youtube....I know I'm not that weak because they jack the slide with almost no strain. It is all but impossable for me to breake the g36 down for cleaning and lubing !!! One gun smith said Rick Hall
January 13, 2011
Rick Hall on
I've had my G36 for a few years now and I love it. I recently started making my own rounds and have not had any issues with feeds. I used to carry a G23, but really didn't like the recoil of the .40. The G36 is smoother to and for, me. Do not compare this great gun, shoots every time you pull the trigger, Not a gun for a limp wrister
Glock 36 Questions and Answers