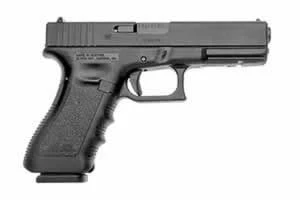 About Glock 31
The GLOCK 31 Gen4, in .357, introduces revolutionary design changes to the pistol that's been the optimum solution for those seeking high muzzle velocity and superior precision in a reliable, yet lightweight, pistol with large magazine capacity. The Modular Back Strap design lets you instantly customize its grip to adapt to an individual shooter's hand size. The surface of the frame employs the new scientifically designed, real-world-tested, Gen4 rough textured technology. Internally, the new GLOCK dual recoil spring assembly substantially increases the life of the system. A reversible enlarged magazine catch, changeable in seconds, accommodates left or right-handed operators. The G31 Gen4 .357 retains the GLOCK accessory rail for your attachments.
Glock 31 Reviews Alexander m
August 13, 2019
Alexander m on
Great pistol. Buds shipped fast, I also bought a 9mm conversion barrel for this pistol because .357 sig can be pretty pricey. Idk if it's a big deal to have a small chip or scrape on the front sight when it's fresh out the box but that's how mine came. Also had a problem with 2 out of the 3 magazines. The first bullet was WAY to hard to rack the slide back. Tech support said it' Excellent pistol and excellent service from Buds Gun Shop! I have purchased many handguns from Buds and the reason I keep going back is because of the pricing and the awesome service I get with Buds Gun shop..... I will continue to purchase and continue t Great gun, shoots greats every time, very reliable, it is a shame that .357 sig is a very expensive round, but I got the .40 S&W conversion and problem solved. Glock is very good pistol. This .357 is the 3rd Glock that I've purchased and I have never had a malfunction on any of them. It's the easiest pistol to field strip and clean that I have and one of the most accurate. lowrider94
January 5, 2016
great gun very reliable accurate and easy to maintain!! John S.
September 2, 2013
I have a hard time finding ammo but the Glock 31 is the gun for you if you want a high capacity powerhouse that shoots nice and flat. I wouldn't trade it for anything on the market. It has a bit of a bark soundwise and a good amount of recoil. It definite love the gun, ammo is hard to find for this caliber. Not at the discount stores. The big out door stores have it, and most of the indoor shooting ranges stock some in limited quantities. I still would not part with my Glock 31 for any reason though. Simil love the gun, ammo needs to be more available for this caliber. At 100 yards off hand I can shoot and hit what i am shooting at with the open sights. My previous experience with pistols was limited to Colt .45 service pistol ( Navy) and a .44 mag that someone gave me after they broke a thumb firing it ! I was impressed with the low recoil and accuracy especially considering the hyper velocity character The Glock 31 is versatile, you can use it as a defense gun, or a range gun if you buy a seperate .40 S&W saving you money on ammo, you can interchange mags from other glock models and most parts for that matter and you can mod the hell out of it like a ci jason joto hethyondo
April 8, 2011
The high-performance .357 is characterized by extremely high muzzle velocity and superior precision even at medium range. The GLOCK 31 is the optimum solution for all who are looking for these ballistic advantages in a reliable yet light pistol with large
Glock 31 Questions and Answers