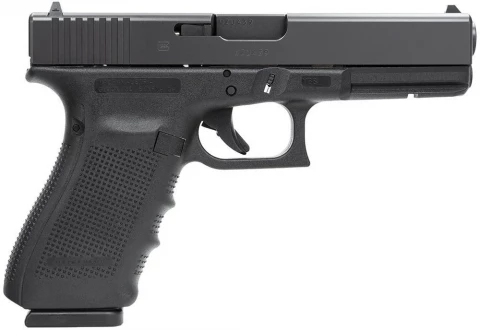 Glock 20 Gen 4 PG2050203
Brand New
About Glock 20 Gen 4 PG2050203
The GLOCK 20 Gen4, in 10mm, provides nothing short of massive firepower. The use of GLOCK hi-tech polymer considerably reduces felt recoil. With muzzle energy of 550 ft/lbs and a magazine capacity of 15 rounds, this 10mm is your reliable companion on every hunt. The Gen4 edition now incorporates a wider selection of grip dimensions to make customizing your grip even more precise. Specifications: Weight: 30.71 oz. # of Mags: 3 Overall Length: 8.03" Gun Case: Plastic
Glock 20 Gen 4 PG2050203 For Sale
Glock 20 Gen 4 PG2050203 Comparisons
Glock 20 Gen 4 PG2050203 Reviews Leon C on
BEAST OF A GUN! EXCELLENT! Gabriel K
October 20, 2018
87% as good as a 1911.
Typical GLOCK, chambered in glorious best millimeter. Wish PSA would have included how many mags came with it in the description(3) as I purchased an extra one not knowing. David G
September 30, 2018
I bought the Glock 20 Gen 4 online and it was shipped to the FLL in a few days. All easy and good. I did rent one before actually making the purchase to be sure I was making the right purchase. I just got home from picking it up and shooting it 200 rounds Kristi B
September 27, 2018
LOVE my new Glock 20 4gen 10mm!!! Fast shipping. Will buy from Buds again. Alejandro Y
July 10, 2018
Excellent gun! shoots without any issues. So far I have put exactly 100 rounds through this Glock and it shoots flawless. I highly recommend the Glock 20 Model 10mm doesn't have much of a kick like others have mentioned. Personally I thinks its a great gu Buds service: 5 stars. Glock 20: 5 stars. I've sent about 100 rounds through the 20 so far. Flawless, and what fun to shoot! OnSight
November 15, 2017
I'v owned and shot m Glock for almost 2 years. In that time I have put somewhere north of 10,000 rounds through it and have had 0 stovepipes, jams, or FT's. It shoots well in bitter cold and when nearly too hot to handle. Other than maintenance this gun h great gun!! Love the 10mm
I bought this gun a year ago and it's my conceal carry gun. Very light, shoots great and recoil is not bad at all. This is my second 10mm. Great round to have! 454Jim454
October 30, 2017
This is an exceptional gun, probably the most versatile in the Glock line. Excellent back country protection from both 4 and 2 legged critters. Danish military issue this to their officers in Greenland for polar bears. Seems a little light for them but th Great service. I choose this pistol to have while camping in large bear and cougar territory. So far at the range it's a glock. No problems using defense and hot loads. Having this makes me feel more comfortable for my trip. mark c
September 21, 2017
Very powerful cartridge much more kick than 45acp would not want to take a training class with it seams more like a hunting or woods defence round Timothy B
September 18, 2017
I LOVE THE GLOCK 20 10MM!! BUDS WAS GREAT, SUPER FAST SERVICE!! I GOT WHAT I WANTED IN 5 DAYS WITH FREE SHIPPING. I WILL BE BUYING MORE FROM BUDS GUN SHOP!! 5 STARS ALL THE WAY!!!
Glock 20 Gen 4 PG2050203 Variations
Glock 20 Gen 4 PG2050203 Questions and Answers
Glock 20 Gen 4 PG2050203 Price History