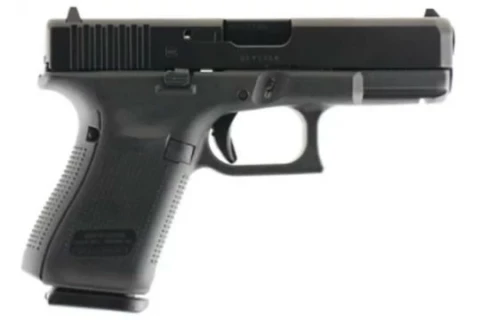 About Glock 19 Gen 5
Glock PA1950201 G19 Gen5 Double 9mm Luger 4.02\" 10+1 FS Black Interchangeable Backstrap Grip Black nDLC The G19 Gen5 features a no finger grooved, multiple backstrapped, rough textured frame with hundreds of miniature spikes which results in remarkable traction for extreme environments and gloved operators. The frame also features a smooth trigger, reversible mag release, and ambidextrous slide stop. The magazine comes with a floor plate which is extended at the front for faster magazine change, and a orange follower, while the flared mag-well makes it easier to funnel the magazine into the mag-well. Glock\'s nDLC finish provides a tougher, more durable protection against corrosion and scratching. The Glock Marksman barrel features a barrel rifling which delivers improved accuracy. his Glock Gen5 model has fixed sights and a 10-round capacity. SPECIFICATIONS: Mfg Item Num: PA1950201 Category: PISTOLS Type :Pistol Action :Double Caliber :9mm Luger Barrel Length :4.02\" Capacity :10+1 Safety :Trigger/Firing Pin/Drop Grips :Black Interchangeable Backstrap Sight Configuration :Fixed Weight :23.99 oz Frame Finish :Black Frame Material :Polymer Barrel Type :Cold Hammer-Forged Polygonal Rifled Slide Description :Black nDLC Case Type :Hard Sight Style :Fixed
Glock 19 Gen 5 Comparisons
Glock 19 Gen 5 Reviews The Glock has one of the most dangerous and idiotic take down systems in the world and unfortunately because of its marketing success every manufacture tried to come up with one similar but few made one that was safe to use or take apart. The Glock tak Serious improvements over previous designs
The gen-3 and gen-4 G17 and G18 designs fit fantastically in my hand, but the previous generation G19 designs always fit terribly until the gen-5 came out. The trigger is considerably better than previous editions and the recoil seems... Not reduced, but Dependable firearm
I have used my Glock at least once a week since I purchased it a few months back. I have to say I am impressed with its over all performance as a firearm. It's great for range days or personal protection. I will definitely be purchasing another soon golface13
January 5, 2018
It's a Glock!!
I own 5 other glocks, and you can say the same thing about this one as the other 5, they just work. As others have pointed out, they feed any ammo and are easy to maintain. In my opinion, the 19 is one of the best catch all options on the market. Perfect LiberalRepublican
December 24, 2017
reliable - proven
Even though the gen5 is basically a gen4 with a few tweeks, it still gets 5 stars. This rating isn't a comparison to past versions, instead it is a fair rating of the handgun, as-is. And the ultra predictable/dependable Glock deserves 5 stars. This f Nice For First Time Glock Buyers
The new G19 Gen 5 has a few nice upgrades vs. the Gen 4. Already put 250 rounds of varied ammo through the Gen 5 with no problems. Feels good in the hand (lack of finger grooves helps), the trigger has slightly smoother "slack" than the Gen 4, a Contemplating buying a Gen5. I really like the older Gen3's because of the old finish. The Gen 4 finish is not nearly as durable. Do you think the Gen5 finish is as durable and Gen3? I really like the look and fact it's a Glock!
Glock 19 Gen 5 Variations
Glock 19 Gen 5 Questions and Answers
Glock 19 Gen 5 Price History