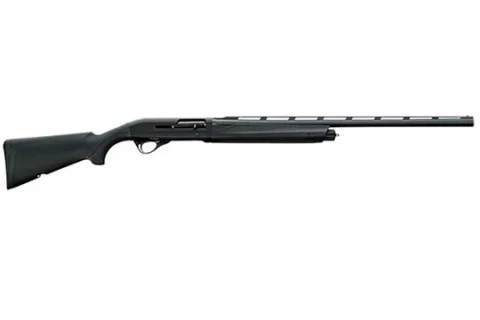 Franchi Affinity
Brand New
About Franchi Affinity
The Affinity 3 semi-automatic shotgun is the ideal coming together of Italian craftsmanship and American passion.  Even as you first shoulder it, youll be surprised by its lean dimensions, functional design and ideal weight and balance.   The trim forend helps keep your eye close to the vore axis, meaning quicker and more intuitive pointing.   The custom-grade controls bolt handle, bolt release and magazine port are oversized for positive use even with gloved hands.   The Inertia Driven system along with the TSA recoil pad makes the Affinity 3 easy on the shoulder in the field or on the clay range.  7 year warranty 3 chokes Ic, M, F and wrench magazine capacity 4 plus 1 length of pull 14 3/8 weight 6.8 lbs
Franchi Affinity For Sale
Specifications
| | |
| --- | --- |
| Category | Shotguns |
| Action | Semi-Automatic |
| Capacity | 4+1 |
| Barrel Length | 26" |
Franchi Affinity Listings
Detailed Review
The Franchi Affinity is a versatile and reliable semi-automatic shotgun that is perfect for hunting, sport shooting, and home defense. This Italian-made shotgun features a sleek and ergonomic design, a smooth and fast cycling action, and a wide range of customization options to suit individual preferences and needs.
One of the key features of the Franchi Affinity is its Inertia Driven System, which uses the recoil energy of each shot to cycle the action. This system not only reduces felt recoil and muzzle rise but also ensures reliable and consistent cycling even in extreme conditions. Additionally, the Franchi Affinity has a rotating bolt head with multiple locking lugs that provide a secure and tight lockup for optimum accuracy and safety.
The Franchi Affinity comes in a variety of models with different barrel lengths, finishes, and stock configurations to fit any shooting style or purpose. The standard models have 26" or 28" vent-rib barrels with interchangeable chokes, while the compact models have 24" barrels for easier maneuverability in tight spaces. The Franchi Affinity is also available in a camo finish for hunting or tactical versions with ghost ring sights and extended magazine tubes for law enforcement or military use.
The Franchi Affinity's stock is made of either durable synthetic material or high-quality walnut, depending on the model. The synthetic stock has a comfortable and non-slip grip with rubber inserts, while the walnut stock has a classic and elegant look with an oil-finished surface. Both stocks have a shim system that allows adjusting the drop and cast for a personalized fit and improved accuracy. The Franchi Affinity also has a slim and lightweight forend that provides a fast and natural handling feel.
The Franchi Affinity has an oversized bolt handle and bolt release button that are easy to operate even with gloves or under stress. The trigger is crisp and smooth with a manageable pull weight, and the safety is conveniently located behind the trigger guard for quick access and visible indicator. The Franchi Affinity also has a reversible safety for left-handed shooters and a magazine cut-off button for single-shot mode or fast reloads.
In conclusion, the Franchi Affinity is a high-quality and versatile shotgun that offers exceptional performance and value for any shooting application. Its innovative Inertia Driven System, customizable features, and sleek design make it a popular choice among hunters, sport shooters, and tactical professionals alike.
Franchi Affinity Comparisons
Franchi Affinity Reviews Kennneth R
August 1, 2018
Kennneth R on
Great shotgun, more reliable than a pump. All kinds of ammo and not one failure. Shot about a couple hundred rounds. Why pay more? Absolutely love it. 1500 rounds, not one hiccup. Gave it a good cleanup to start as recommended. I call it my cheater gun. If I miss, it wasn't the gun. Decided this new Affinity in 12 gauge would be a good stable mate. Same results! I can't believe how c Howard K
December 23, 2013
I bought one of these in 2012. It's my first shot gun. I wanted something for small game, waterfowl, pheasants and some occasional trap. It's worked out perfectly. There is noticeably less kick than other guns I've tried and I've had no problems with cycl
Franchi Affinity Variations
Franchi Affinity Questions and Answers
Franchi Affinity Price History