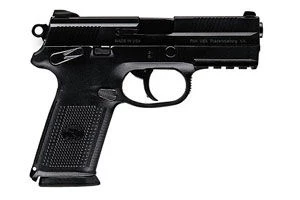 About FN FNS-9
The FNS-9 is an advanced polymer frame, striker fired handgun that provides the simplicity of a double action only design, making it an excellent option for duty or self defense. It features a 4" barrel with ambidextrous slide stop levers and magazine releases. Supplied with interchangeable back straps to improve the fit in hand, it also has a picatinny accessory rail for a light or laser. This pistol is a great choice for the legally armed citizen and law enforcement well as target shooting or competition.
FN FNS-9 Reviews William G
November 15, 2019
William G on
rnFN HERSTAL FNS-9 4" Black 17rd Night SightsrnI researched this weapon ALLOT!rnGreat history of BATTLE proven quality!rnThe only reason Glock ran this segment was because FN didn't have a striker fired pistol!rnWelp that day is over... this pistol is am I guess the best way to say how much I love this pistol is to say I already owned the FNS40 and have put 1800 rounds through it with only one issue (stove pipe). It just runs great and fits me so well that I said I gotta have the 9mm version. I have ran Another seamless purchase from Bud's!!! This is the 3rd fire arm I have purchased from Bud's in the last couple of years. I did have trouble placing my latest order initially. A simple Phone call that was actually routed to a Real Live Human Being with k Best 9 mm you can buy for price.Three 17 rd.polished steel mags,steel night sights,good ergonomics and great out of box trigger.Eats anything you feed it.I also have the Fns 9c.Can use all my 17 Rd. Mags in my compact.Love my Fn's.Highly recommend.Get it Another great FN product. Beautiful weapon, fine trigger. rnrnTook a little longer than normal to get from Bud's but once it shipped the firearm arrived in 2 days. Smooth transaction as always. Also, I was surprised to find THREE 17 round magazines includ Love this gun. Highly recommend for conceal carry. Love them, Now my favorite pistols
I bought two for door guns in my vehicles, but I liked it so much one has become my daily carry You sent me a gun with no mags and FN wouldn't help me out either so I never got to shoot it and had to sell it. Good gun
Great carry gun fits better in the hand than the Glock. Very accurate. Only issue the slide release Great gun. I wanted a polymer 9mm striker fired gun, mostly for range use, and chose this one almost randomly. I wanted something other than glock but from a reputable company. No misfires, no malfunctions in almost 2500 rounds. Comes with 3 mags, change I was torn between the FNX and Beretta Storm. I chose the FNX and couldn't be happier. Very accurate out of the box. Eats everything from cheap Walmart Ammo to high price protection ammo to handloads. Never had a misfire. Everyone who has shot this gun ha
FN FNS-9 Questions and Answers