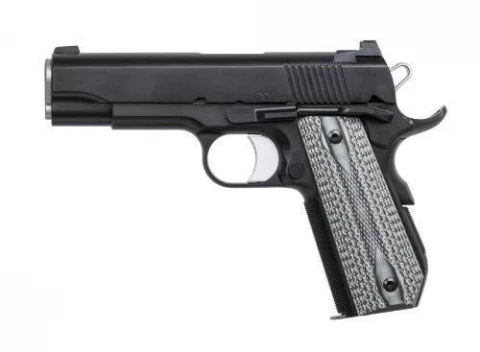 Dan Wesson V-Bob 01871
Brand New
About Dan Wesson V-Bob 01871
The popular Bobtail Commander is now available in the Valor series in the form of the V-Bob. The Valor series is our flagship line, meaning it?s the best we have to offer. Frankly, we feel it is the best built production 1911 on the market. The V-Bob is loaded with features, including a forged Bobtail frame with 25 LPI checkering front and back, an undercut trigger guard, tactical ledge night sights, VZ slim line G10 grips, EGW carry bevel bushings as well as our tool-steel fire controls and other premium small parts. Every piece that goes into the Valor series is hand-fit, polished and blended to provide you with not only the best functioning gun we can provide, but also the best looking. Our Duty Black finish beats any of the spray-and-bake finishes most companies use today, hands down. Our durability testing proves it and our customers love it ? which is proof enough for us!
Dan Wesson V-Bob 01871 For Sale
Detailed Review
The Dan Wesson V-Bob 01871 is a high-quality 1911 style pistol that is designed for both self-defense and target shooting. This firearm is built to last and is constructed using the finest materials, ensuring that it will perform consistently and accurately for years to come.
The V-Bob 01871 features a stainless steel slide and frame, which provides exceptional durability and longevity. The slide has a classic polished finish, while the frame has a matte finish for reduced glare. The controls on this pistol are all black, including the hammer, trigger, slide stop, and thumb safety.
One of the standout features of the V-Bob 01871 is its match-grade barrel. This barrel is made from stainless steel and is precision machined to ensure maximum accuracy. The barrel is also flush cut, which gives the pistol a sleek and streamlined appearance. Additionally, the barrel is ramped, which allows for smoother feeding and ejection.
The V-Bob 01871 has traditional 1911 styling, but with some modern upgrades to improve its performance. For example, the front and rear sights are low profile and incorporate tritium inserts. This makes them easy to see in low light conditions and helps with quick target acquisition. The grip panels are made from G10, which is a high-strength composite material that provides excellent traction and durability.
Other features of the V-Bob 01871 include a beavertail grip safety, which helps prevent accidental discharges by ensuring that the pistol cannot be fired unless the grip is firmly held. The pistol also has a full-length guide rod, which helps reduce recoil and muzzle flip during firing. Additionally, the magazine well is beveled, which makes reloading faster and easier.
The V-Bob 01871 is chambered in .45 ACP, which is an excellent self-defense cartridge with proven stopping power. The pistol comes with two 8-round magazines, which provide ample firepower for most situations. The trigger on this pistol is exceptional, with a crisp and clean break that makes it easy to shoot accurately.
In conclusion, the Dan Wesson V-Bob 01871 is an outstanding 1911 style pistol that offers exceptional performance and reliability. Its high-quality construction, match-grade barrel, and modern features make it an excellent choice for self-defense, target shooting, or just collecting. Whether you're a seasoned shooter or new to the sport, the V-Bob 01871 is sure to impress.
Dan Wesson V-Bob 01871 Comparisons
Dan Wesson V-Bob 01871 Reviews David G on
This is my first Dan Wesson 1911, and I must say it was NOT a disappointment. I own several 1911's ranging in price from a $600 Springfield A1 Mil-Spec to a $4400 Nighthawk Bob Marvel Custom, and I can say without hesitation this is the finest sub-$2000 the dan wesson v bob in 9 MM is the nicest 1911 i've ever shoot,, i ran 150 rounds through it this morning no problems at all crisp clean breaking trigger- 4 lbs on my gauge.. its going to be my carry gun after another 400 or so rounds, would i buy it This is my first time buying at Buds Gun shop and it was fast easy and very pleasant. The firearm arrived in beautiful condition and i am looking forward to many years of enjoyment with it. I will not hesitate to do business with Buds gun shop again and i David S
February 15, 2019
My satisfaction with this Dan Wesson V-BOB is more than complete. I have purchased several Dan Wesson's and all are superb 1911's. The fit and finish on this V-BOB are absolutely perfect, and the Duty Treat finish is just beautiful. I count this as one of William H
October 25, 2017
If you're serious about 1911 I would highly recommend the valor. It is truly a sight to behold. The black duty finish Has to actually been seen to appreciate it. The camera can't really do justice to it. I've had the pistol approx 1.5 years. It's my 5th 1 Robert M H
April 28, 2017
I wanted to tell everyone the final outcome of my malfunctions with the Dan Wesson V Bob. The second time I sent it back the VP of Dan Wesson personally took care of the extractor problem. He hardened the extractor and tuned it. It works perfectly thank y
Dan Wesson V-Bob 01871 Variations
Dan Wesson V-Bob 01871 Questions and Answers
Dan Wesson V-Bob 01871 Price History