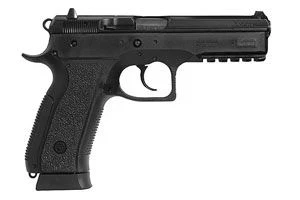 CZ 75 SP-01 Phantom
Brand New
About CZ 75 SP-01 Phantom
CZ 75 SP01 Phantom 18rd 9mm Polymer Frame This gun is new in the box from CZ and comes with 2x 18rd Mags This gun is not legal for sale in Calif, New York, or Maryland. This model does feature a decocker.
CZ 75 SP-01 Phantom For Sale
CZ 75 SP-01 Phantom Comparisons
CZ 75 SP-01 Phantom Reviews John C on
Great gun. My favorite gun. Very dependable and accurate. Just bought a CZ SP-01 Tactical to have customized. David J
February 19, 2018
Pistol is sweet as all of the 75 series are in my opinion. Flashlight I'm not so sure about seems to be a contact problem with the battery so far but not sure. Haven't shot with the light mounted but randomly shuts off or just won't turn on Great Firearm. I've shot several thousand rounds through this firearm and no issues whatsoever. It works reliably. Accuracy is excellent. Received this fine firearm quickly. Wife and I went to range to try her out. This was the very first pistol for both of us. My wife had never fired a firearm in her life. I have always used rifles. Well, we put 150 rounds through it at 25 yards using a va Excellent handgun. For those who know the CZ line, I need not say more. For others, I recommend the full metal weight of these handguns. My accuracy at 25 meters (82 feet) is dead on. The limited recoil of the 9mm in this weight makes continuous, accurate Everything went smooth and quickly . It was described to have night sights . These are the kind you charge with a flashlight. I've left it in the window all day and hardly saw any glowing . Other than that , i'm thrilled I have put over 3000 rounds through the CZ,runs great,and is very accurate. this is an excellent pistol the ergos are second to none,it just falls right into your hand perfectly its been 100% reliable after over 1000 rounds downrange lightweight and more accurate than i am i would give it 5 stars but the factory trigger hold Awsome job by both Buds and CZ. Firearm was ordered and was at my ffl dealer within 10 days saved a decent penny so it was worth the wait. But the CZ Sp01 Phantom and I are now inseparable. Little to no muzzle flip, Recoil whats's that, 18 very accurate r Received my Phantom from Buds and was impressed with the pistol. Took it to the range with my shooting group and they were all impressed by the balance and the accuracy. This is the first pistol I have purchased, and after much research both online and at I am extremely happy with my purchase of the CZ Phantom. The reason I give if four stars is because I don't like the flimsy clips, gritty trigger, and placement of the slide lock release. CZ are the best pistols out there! This is the second one I've bought at buds. A simple masterpiece is the only way to discribe the phantom. Accuracy is great, fit and finish is perfect, and 18 rounds what else can I say! buy one!!!!
CZ 75 SP-01 Phantom Variations
CZ 75 SP-01 Phantom Questions and Answers
Asked by
geoz48
5 years ago
Hi Dannie, I don't own either but, you can see this very question posed to actual owners of both along with their unbiased opinions in this CZ forum : czfirearms.us/index.php?topic=92034.0
CZ 75 SP-01 Phantom Price History